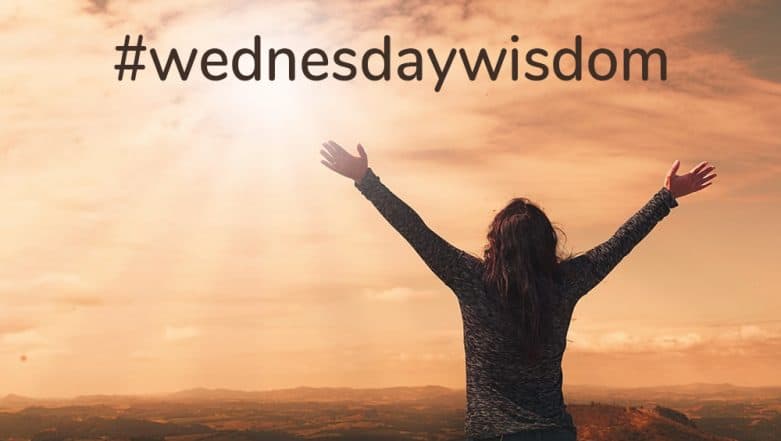 Millennials have been complaining about Mondays throughout, but is it the only day of the week that is cursed? Considering the increasing trend of social media, it does not seem Monday is not the only worst day of the week. Wednesdays are equally challenging, and the inspiring #WednesdayThoughts trending on Twitter, rightly explain that. In search of motivation to beat the mid-week blues, netizens are sharing beautiful quotes on Wednesday Wisdom along with some GIF images and memes online. Since the early hours today, #WednesdayWisdom and #WednesdayThoughts are the top trends on Twitter in India. And why not? These Inspiring Quotes, GIF Images & WhatsApp Messages Will Make You Smile This Hump Day. 
Wednesdays carry a bad reputation of being the longest day of the week and netizens could not agree more. And they are here to the rescue with some hardcore #WednesdayWisdom thoughts. Instead of only experiencing mass moaning in the middle of the book, let us dive into some amazing motivational quotes and GIF images to beat the blues this Wednesday.
Always Learn From Your Mistakes
Don't let your possibilities die with you. Many riches dwell within you, dear friends, invest in them! Dare to train and educate yourself. Dare to try, and dare to make mistakes doing so, you learn from it. ~Eric Célérier #wednesdaythoughts#WednesdayMotivation

— chucks edwin (@chucksedwin1) June 26, 2019
Kick All Negativities
Win in silence, let them think that you are losing😍#WednesdayMotivation#entrepreneur#wednesdaythoughts pic.twitter.com/7FDlmWmCoY

— Daddy Gee Hoe🍆🥒🍌 (@iamphveektor) June 26, 2019
This is the Best One
Somebody's Trash is Someone Else's Treasure ...😊#WednesdayMotivation #WednesdayThoughts pic.twitter.com/fLY2Qm9fj5

— Sobahle (@inkosi_malz) June 26, 2019
Every Morning!
WHEN SLEEP IS YOUR LOVE #wednesdaythoughts #WednesdayMotivation #WednesdayWisdom #WorldDrugDay pic.twitter.com/zYDx2Kqnw9

— Manch (@Manch_India) June 26, 2019
Wednesday Wisdom GIF Image
Wednesdays are the real evil. It is equally close to the weekend, yet far to it. But Twitterati really knows how to make any weekday accurately amusing. The above are some quotes and thoughts in the form of tweets shared by our very own netizens which will propel you to move forward. While some of them are indeed hilarious, others are extreme wisdom. With these motivations, enjoy your Wednesday!