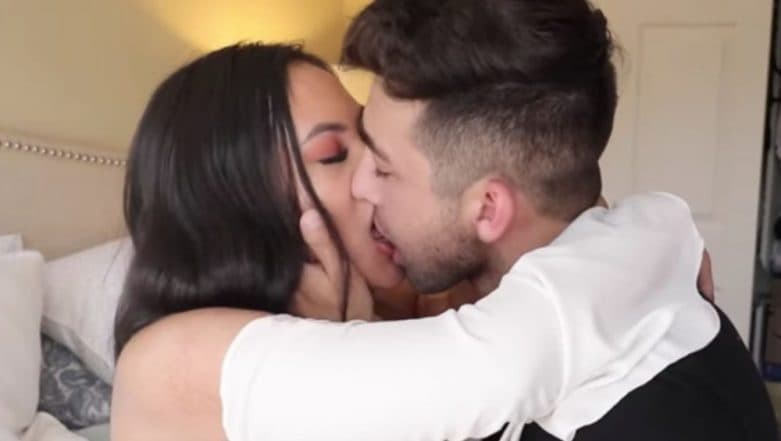 Internet's popular prankster probably crossed the line by uploading a video of him kissing his sister! Chris Monroe, who goes by the name PrankInvasion on YouTube shared the video titled 'Kissing my actual sister' shocking fans and followers. He does say that Kaitlyn O'Connor is his half-sister and it is weird to kiss her, however, goes ahead. He begins the video inside his house by saying that his social media had been hacked for three months and now that he is back he owes 'something big' to his subscribers. YouTube Bans Dangerous, Harmful Pranks Videos.
Chris then accepts that he has been stalking Kaitlyn for over an hour and hovering around her room. He even says that he knows he is a creep but goes ahead to knock at her door. The duo then plays a round of rock, paper and scissors in which Chris wins. Now that he has to kiss his half-sister he says 'this feels awkward'. Although initially, Kaitlyn says she doesn't want to do it, she finally agrees. She adds that it will help the prankster out as his viewers 'want to see it'. Here is the video of the prankster kissing his sister. The video was soon to go viral and has received more than 2 million views. YouTubers Cole and Savannah Play April Fools' Day Prank on Their Daughter With Her Puppy and Netizens Are Pissed Off; Here's Why (Watch Video)
Here's how Twitter reacted to the incident:
if that was his sister then chris monroe would be a creep! but if it's one of those craigslist models then he's still a creep for saying that's his sister while kissing her! yikes!

— Rutchit Filmz 🌐 (@RutchitFilmz) April 1, 2019
Some questioned why YouTube allowed such content on their platform
Chris Monroe is the definition of harassment. Forcing your sister to kiss you against her wishes is not only wrong but profiting from it and making it popular on YouTube is portraying actions like these as normal. Why is YouTube still allowing his content?

— Michael Rogers (@MichaeRogers) April 2, 2019
Is she his sister after all?
i think this is a hoax...on her instagram her name is kaitlyn o'connor and his name (youtuber prankinvasion) is chris monroe...they don't even follow each other on instagram or have any pictures with each other on social media besides the ones in the video

— 𝐩𝐫𝐢𝐬𝐜𝐢𝐥𝐚 (@cowgrlpris) April 1, 2019
While the video is made to look like it was an impromptu, internet users said that it looked staged.  As the video was shared massively on the internet, social media users appeared horrified and trashed Chris for the video. Most said that he being her half sister did not justify the act. Most questioned if the video was real and if she was really related to him. Chris who has over 3.7 million YouTuber subscribers continues to receive criticism on social media with people questioning the authenticity of the video.