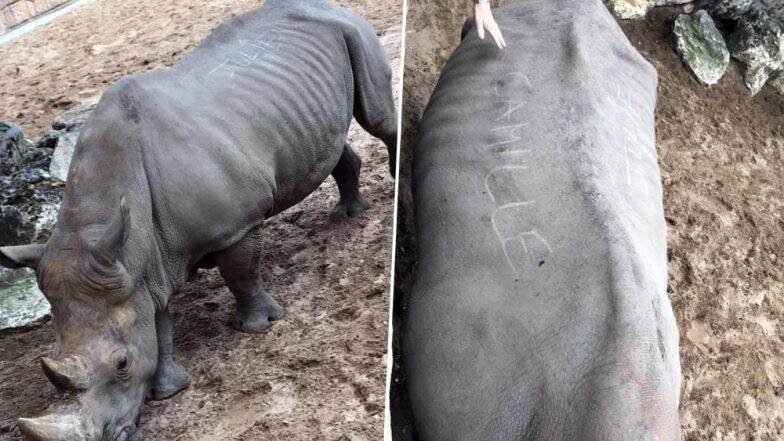 Another sickening incident in a French zoo has stirred debate on animal cruelty. Zoo La Palmyre in south-western France has just released pictures of a rhinoceros, which had names written on its back. In the photos, the names "Julie" and "Camille" can be seen etched on its skin. It has rightly triggered an outcry and the authorities at the zoo were themselves disgusted by the act. Twitter is outraged, and so are we. And in this case, animal rights activists are also questioning the French zoo over its failure to ensure the safety of the rhino. Rhino Chases Safari Jeep For 500 Meters in South African National Park, Terrifying Video Goes Viral. 
According to the French zoo, the rhinoceros is a 35-year-old female fondly called Noëlle. The officials of Zoo La Palmyre released a statement saying they feel "outraged by the stupidity and disrespect" of the act. It appears that visitors used their fingernails to write their names on the rhino. The zoo officials further stated that animal lovers are allowed to touch the creatures when they approach the fence of their enclosure. People online described the act as shocking, senseless and downright disrespectful.
Here Are the Pics:
Des tags retrouvés sur le dos d'un rhinocéros au zoo de La Palmyre !

"Quand j'ai constaté cette marque sur le rhinocéros, ma première réaction a été la surprise et le dégoût vis-à-vis de la personne qui a agi de manière tout à fait irrespectueuse vis-à-vis de l'animal" pic.twitter.com/beQ8DCsTqh

— E 🍃 (@Envirias) August 21, 2019
Twitter is outraged!
There r sick people out there

— Nancy mcleod (@nancymc303139) August 22, 2019
Omgosh - That's horrible and why does she look so thin? 😳😢

— 𝕂𝕖𝕝𝕝𝕪 𝕊𝕒𝕟𝕥𝕚 (@miamikel4) August 23, 2019
Some Questioned the Zoo:
Another example why zoos and circuses with animals should go. Imbeciles in a French Zoo in La Palmyre carved their names in the skin of a Rhino. Only in zoos a Rhino can be approached as if it was a domesticated animal. pic.twitter.com/GpFrGMuNkQ

— ThaiMythbuster (@thaimythbuster) August 21, 2019
Current Status of the Rhino
According to the zoo, Noëlle barely noticed what happened on her back. They immediately rubbed it off her skin. The Zoo has decided not to press any legal charges against the visitors. However, they plan to strengthen its security and the number of caretakers in the premises to ensure such things never happen in the future.
Three out of the five species of rhino are critically endangered. According to Save the Rhino, there are only 29,000 rhinos currently present in the wild. Poaching and loss of habitat have put all rhino species in danger of extinction. Cases such as the recent one in Zoo La Palmyre shows the horrific condition and the increasing failure of the animals' security when in captivity.