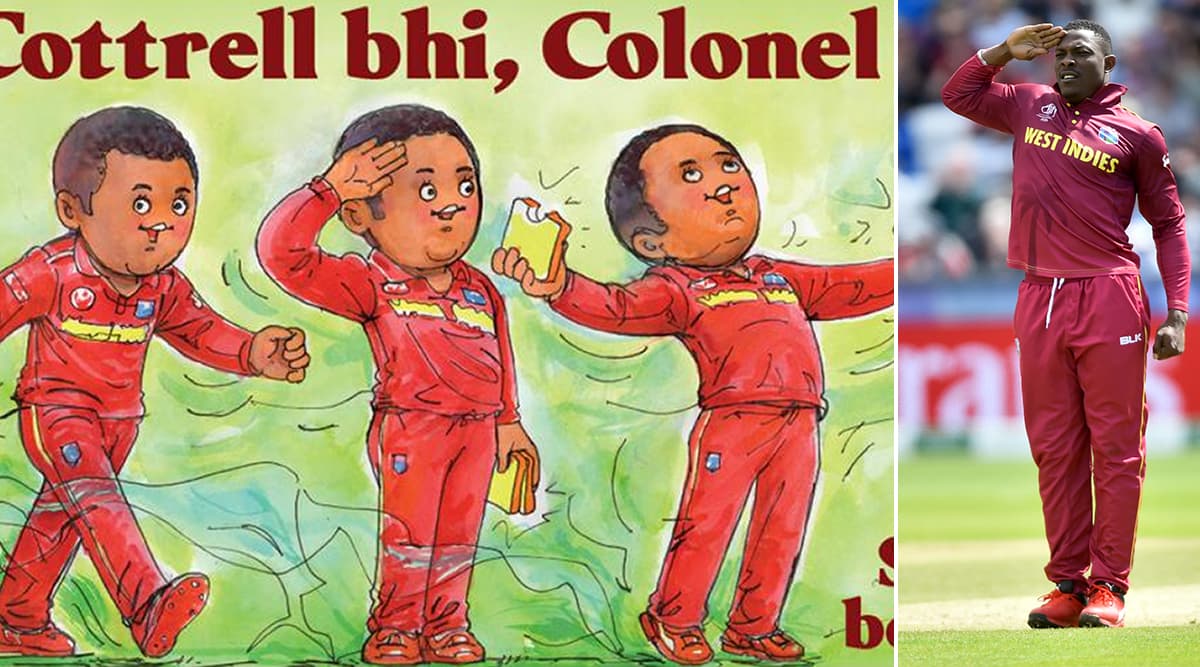 Sheldon Cottrell's unusual and unique celebration had attracted a lot of eyes ever since he introduced the "Salute" wicket celebration to the cricketing universe in ICC Cricket World Cup 2019. Among the many fans of Cottrell's military-style salute is an Indian cooperative dairy company, Amul, which has made a quite name for its creative caricatures. On Monday – a day after West Indies whipped India by eight wickets in the 2nd T20I match – Amul brought out a new poster for its product which featured Cottrell and his unconventional celebration. The caricature follows the West Indian fast bowler's military-style celebration and reciprocates every move Cottrell makes during his celebration. Rishabh Pant Loses Grip of His Bat Off Sheldon Cottrell Delivery During IND vs WI 2nd T20I 2019 Match (Watch Funny Video).
From the 30-year-old military-cum-cricketer, marching like a soldier in uniform to him saluting and then opening his arm to the heavens, the Amul caricature shows every step of Cottrell's military-style celebration. The West Indies pacer had revealed that the unique celebration he performs after every wicket that he takes, is actually his way of showing respect to the Jamaica Defence Force – of which he is also a part. "It's a military-style salute. I'm a soldier by profession. Me saluting is just to show my respect to the Jamaica Defence Force," Cottrell has once told BBC. "I do it every time I get a wicket. I practised it for six months when I was training in the army." Virat Kohli Lashes Out at Spectators for Chanting MS Dhoni After Rishabh Pant Drops Evin Lewis' Catch During India vs West Indies 2nd T20I 2019 (Watch Video).
Amul On Sheldon Cottrell's Celebration
#Amul Topical: West Indian bowler's unusual wicket taking celebration! pic.twitter.com/1WmIr8kJLO

— Amul.coop (@Amul_Coop) December 9, 2019
Meanwhile, in the caricature posted by Amul on its social media handles, Cottrell has three image of himself – each depicting a part of his celebration. In the first, the giant West Indian pacer, in a West Indies ODI jersey, is seen marching with two bread pieces – with butter smacked on them – on his right hand. In the second image, he then salutes before taking one-pieces each on his either hands. Cottrell then opens his arms to the heavens. The final image reveals that Cottrell has grabbed a bite from each of the bread pieces.
"Cottrell bhi, Colonel bhi!" says the caption on the image, which pays a tribute to the West Indian fast bowler. Another caption on the image reads: "Salute the best butter!" Meanwhile, a cut-out of the image posted on Twitter had also a unique caption on it. "#Amul Topical: West Indian bowler's unusual wicket-taking celebration!" the caption said.
How to Do the Sheldon Cottrell Salute
Cottrell was West Indies' best bowler among those that bowled four overs each with the 30-year-old left-arm pacer finished with figures of 27/1 in four overs taking the wicket of Washington Sundar with a terrific return catch as West Indies plummeted Indian bowlers out of the park to chase down a 171-run target nine deliveries and eight wickets to spare. The win helped the visiting team tie the three-match T20I series 1-1 with one game remaining.