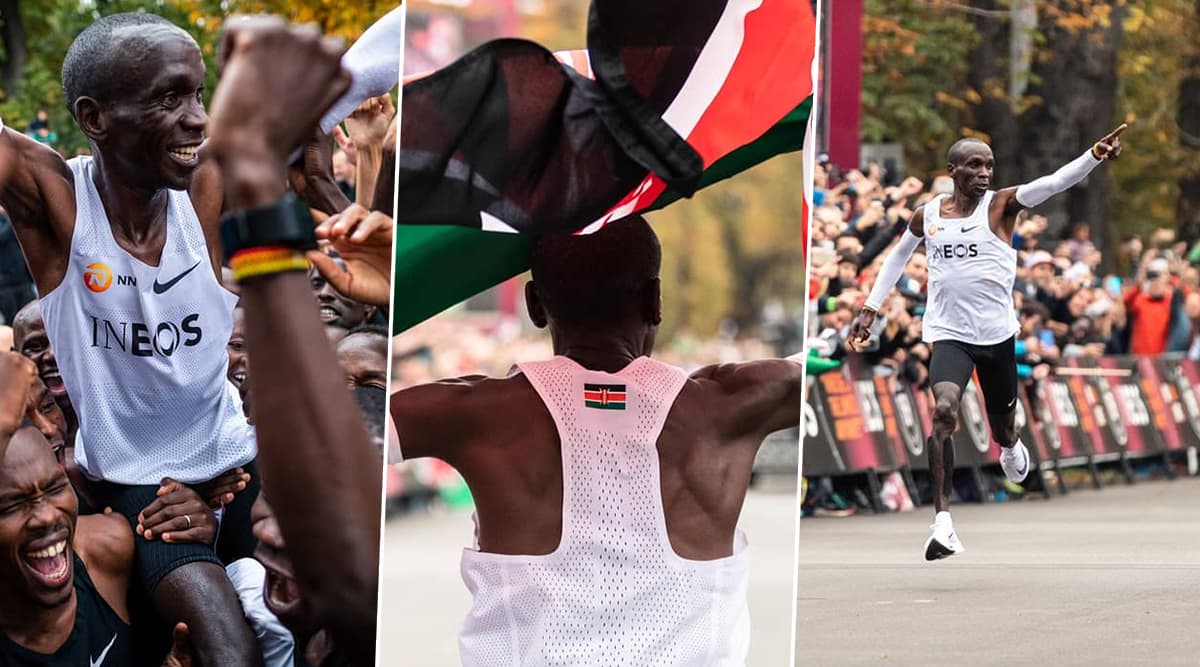 Kenyan long-distance runner Eliud Kipchoge completed the distance of 42.195 kilometres, in less than two hours. He has registered a record to his name by completing the Marathon race within two hours. Before creating this record, Kipchoge tweeted, 'I don't know where the limits are, but I would like to go there'. The Kenyan marathon runner tweet on 'Go Beyond Limits' before becoming the first human to run a marathon under 2 hours is truly inspirational. Kipchoge tried to break this record two years back, however, he was unable to do so at Monza motor racing. He made sure that he completes the marathon at Vienna within two hours this year, when he crossed the line the clock read 1:59:40.2. Eliud Kipchoge Becomes First Human to Run a Marathon in Under 2 Hours! Kenyan Long-Distance Runner's 'Roger Bannister Moment' Breaks Human Perception.
Eliud Kipchoge indeed pushed the limit of human endurance. In his race, he was assisted by 41 pacemakers and lasers. Kipchoge had no competitor to compete in this race, which looked less like a marathon and more like a sprint. Kipchoge after creating the record admitted that he was under a lot of pressure before the race, however, he received lots of call of encouragement, even from the President of Kenya.
Eliud Kipchoge Tweet Before the Race 
I don't know where the limits are, but I would like to go there. pic.twitter.com/ET2aZIoa2J

— Eliud Kipchoge (@EliudKipchoge) October 11, 2019
Sadly, Kipchoge's feat of completing the Marathon within two hours won't be entered in the record books as this was a staged time trial. The Kenyan had the ideal condition to start the race at 8:15 am. Eliud Kipchoge on his marathon debut won the 2013 Hamburg Marathon in a course record time of 59:25 minutes. He has won the London Marathon four times in his career.