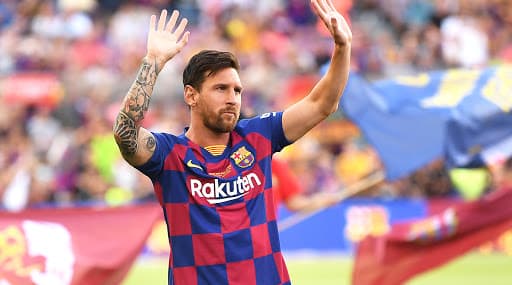 Lionel Messi continues his spectacular 2019 with yet another award, as the Argentine won the IFFHS Award for World's Best Playmaker in 2019. The Barcelona captain finished ahead of Manchester City's Kevin De Bruyne and Real Madrid's Eden Hazard to claim his fourth award. Lionel Messi had also bagged the 2019 FIFA Player of the Year along with the Golden Boot earlier this year. The Argentina captain is also been tipped as the favourite to win the 2019 Ballon d'Or according to many reports emerging from Spain. The Barcelona forward along with his former Barcelona compatriot Xavi has won the award a record four times. Lionel Messi Makes 700 Barcelona Appearances: 5 Records By Little Magician That Are IMPOSSIBLE To Break.
Messi is known as one of the best playmakers of this generation and the International Federation of Football History and Statistics have given him the award for that with their Annual Playmaker award. The Barcelona Forward topped the list with 299 points, followed by Kevin De Bruyne with 85 points and Eden Hazard with 55 points. Football experts from 90 countries were once again impressed with the little magician, who holds the all-time record of the most IFFHS most Awards with ten in nine years. The Barcelona captain is also joined by fellow team-mates Frenkie de Jong and Antoine Griezmann, who finished seventh and ninth respectively. The main talking point has been the exclusion of Juventus superstar Cristiano Ronaldo, so let's have a look at the players who have made it into the top ten. Lionel Messi Beats Cristiano Ronaldo to Register His Name in Top 15 Goal-Scorers of 2019 (See Full List).
World's Best Playmaker in 2019 (by IFFHS)
Lionel Messi – FC Barcelona – 299 points

Kevin De Bruyne – Manchester City – 85 points

Eden Hazard – Chelsea, Real Madrid – 55 points

Roberto Firmino – Liverpool – 46 points

Bernardo Silva – Manchester City – 32 points

Dusan Tadic – Ajax – 30 points

Frenkie de Jong – Ajax, FC Barcelona – 25 points

Christian Eriksen – Tottenham Hotspur – 21 points

Antoine Griezmann – Atletico Madrid, FC Barcelona – 20 points

Gini Wijnaldum – Liverpool – 17 points
The Barcelona forward has also won four awards as top division scorer for the IFFHS as well as two awards for the top international scorer. Leo Messi is expected to win his sixth this coming Monday, if that's the case the Argentine will become the most decorated player in footballing history, a fair reflection of his greatness.