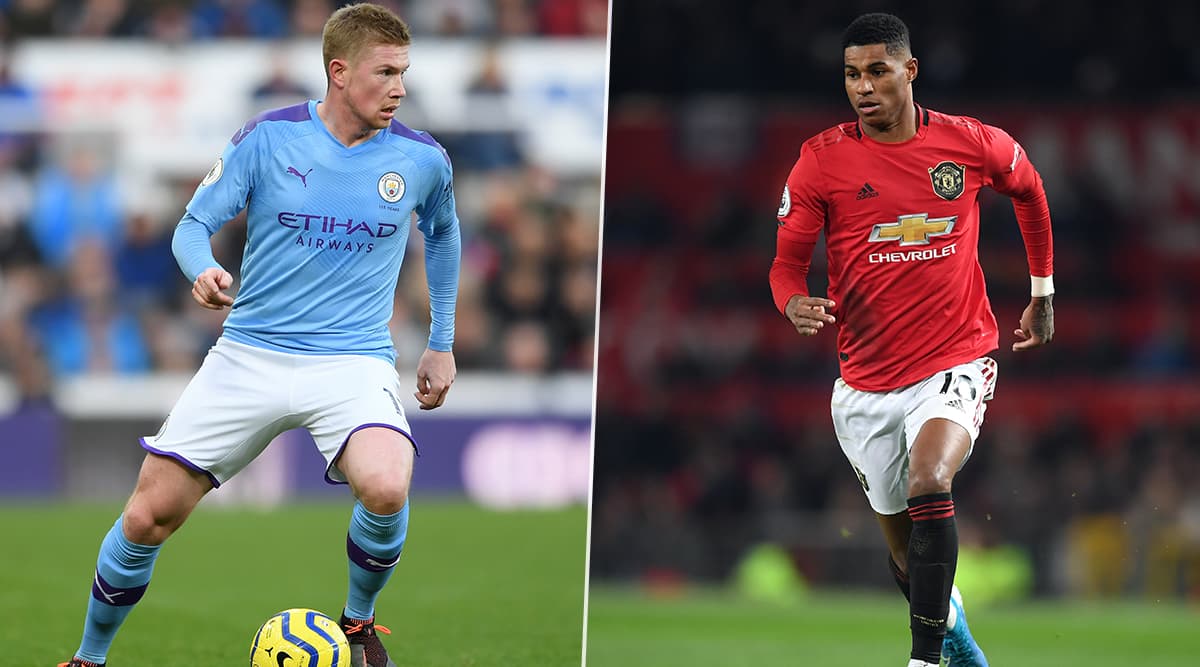 MCI vs MUN Head-to-Head Record Ahead of ISL 2019 Clash and Match Results: Manchester City will host Manchester United in a Manchester derby at the City Ethiad stadium on December 07, 2019 (Saturday). Man City vs United clash in 2019-20 English Premier League (EPL) clash hoping to cut down the 11 point-gap at the top of the points table. Defending Premier League champions City are placed third behind Liverpool (43) and Leicester (35) while United are struggling in the sixth position with 21 points from 15 matches. Both teams need victories and meet in the derby hoping to resurrect their season. Man United lead the head-to-head records having won 73 of 178 meetings against their City rivals. But in recent times City have dominated the fixture and have victorious in three of last five meetings. Ahead of the 179th derby meeting between these two Manchester sides, take a look at the results of last 5 matches between Man City and Untied. Manchester City Vs Manchester United - Live Football Score.
Both teams have some injury scare to assess of the 179th derby meeting. Reigning Premier League champions City will be without star striker Sergio Aguero, who twisted his ankle and out of this clash. United, on the other, are without Paul Pogba, who scored twice when United last beat City at the Ethiad. For Pep Guardiola's side, Americ Laporte and Leroy Sane continue to be out. Ole Gunnar Solskjaer, on the other, spoke of about having a full fit squad by January. United beat Tottenham Hotspur 2-1 at home, while City thrashed Brighton 4-1 away from home. Take a look at the last 5 results in Manchester Derby. MCI vs MUN Dream11 Prediction in Premier League 2019–20: Tips to Pick Best Team for Manchester City vs Manchester United.
Manchester United vs Manchester City – April 24, 2019 – City Won 2-0
Bernardo Silva and Leroy Sane's second-half goals secure a comfortable win for City in their title-winning campaign by a record haul of points. United, on their part, continued their drastic spell under Ole Gunnar Solskjaer after an initial spree of victories.
Manchester City vs Manchester United – November 11, 2018 – City Won 3-1
David Silva put City ahead inside 12 minutes and they never had to look back after that. Sergio Aguero made it 2-0 three-minutes after the half-time restart and although pulled one back for United from the spot, the visitors had little to offer the in attack and defence and City always looked in control. This was the first time United had lost four from 12 opening games in EPL, a record they broke in another disastrous run this season. Illkay Gundogan than sealed City's win with an 86th-minute strike.
Manchester City vs Manchester United – April 07, 2018 – United Won 3-2
A game the Manchester United faithful will never forget. City went 2-0 up in the opening 30 minutes with Vincent Kompany and Illkay Gundogan putting the home side ahead. Pep Guardiola's side looked like they would score more in the first 45 minutes. But they didn't and a different United side came out for the second half. Alexis Sanchez rose to the occasion for his best game in a Red Devils' jersey and Paul Pogbna did that too. An Ander Herera cross found Pogba and he scored in the 53rd before Sanchez found him again and Pogba scored again to minutes later. The game was level and Chris Smalling put it in United's favour with a striker's goal in the 69th minute. David de Gea also saved a last-minute header for Aguero to ensure United won.
Manchester United vs Manchester City – December 10, 2017 – City Won 2-1
David Silva put City ahead in the 43rd minute but Marcus Rashford ensured both sides went to the break level on scores. Nicolas Otamendi, however, put the match to bed with a thrashing header in the 54th minute and City won. They won the league too and United finished second 14 points behind.
Manchester City vs Man United – April 28, 2017 – Match Drawn
The second time Pep Guardiola and Jose Mourinho met in a Manchester derby. Mourinho had beaten Guardiola via a Marcus Rashford goal in their meeting in England. And Guardiola was adamant on paying back the favour but the match ended on a goalless draw with Marouane Fellaini's 84th-minute red card being the only thing of note in this match. Nor Fellaini neither Mourinho remain at United now. But Guardiola will want a victory.
Ole Gunnar Solskjaer lost in his first-ever game as a manager in the Manchester derby. He will hope that he can avenge that defeat especially with his job on the line. That 2-1 win over Tottenham Hotspur will give enough assurance but stopping a relentless City will be a huge task.