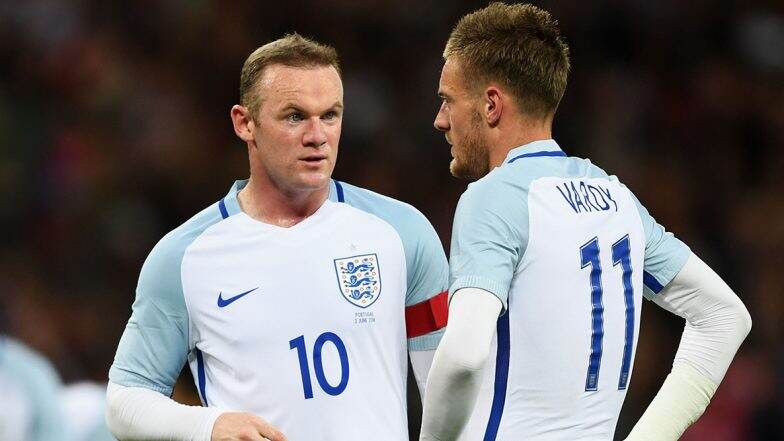 Wayne Rooney's wife, Coleen Rooney, has accused Jamie Vardy's wife, Rebekah Vardy, of leaking personal stories about her husband to the England tabloid newspaper The Sun. The wife of the former England captain Wayne Rooney made the accusations through a post on Twitter, in which she also revealed that she had devised a plan to expose Mrs Vardy, who she accused has always passed information about the Rooneys to the newspaper. Rebekah, wife of Leicester City striker Jamie Vardy, however, denied leaking any such information intentionally and also claimed that her media platform has been hacked.
Mrs Rooney in her sensational Twitter post said that she was initially confused as to which of her friend was leaking stories – regarding her and her husband – to the media. But after five months of such incidents taking place, she devised a plan to nab the suspect. Coleen mentioned that she "came up with an idea" and after a thorough investigation through Instagram found Vardy female to be the one leaking personal information to the press.
Coleen Vardy Accuses Jamie Vardy's Wife
This has been a burden in my life for a few years now and finally I have got to the bottom of it...... pic.twitter.com/0YqJAoXuK1

— Coleen Rooney (@ColeenRoo) October 9, 2019
Moments after Coleen Rooney's accusations, Rebekah Vardy took to social media platform to deny the allegations and also said that her Instagram was hacked. "I never speak to anyone about you as various journalists who have asked me to over the years can vouch for. If you thought this was happening you could have told me and I could have changed my passwords to see if it stopped," she wrote.
Rebekah Vardy Denies All Allegations
@ColeenRoo pic.twitter.com/VkhkkIa6nh

— Rebekah Vardy (@RebekahVardy) October 9, 2019
Among the many "fake stories", from Coleen Rooney published by The Sun, was a story on Mexico gender selection, which was published by the British Tabloid on August 15. The news mentioned how Rooney and his wife had gone to Mexico to search for a way to give birth to a daughter, where such treatments are legal. Another was on how the basement of the couple's £20million mansion was flooded.
Meanwhile, Twitter couldn't stop having fun at the expense of the Rooney and Vardy family. Although most netizens on the social media platform supported Coleen Rooney, they also found it extremely funny on knowing the investigation Mrs Rooney initiated the suspect.
VAR Needs to Intervene To Produce the Right Decision
Love this photo!!!! Coleen Rooney has put up a message to Rebecca Vardy accusing her of selling stories about her. pic.twitter.com/RdhDsKubaL

— Frank Khalid (@FrankKhalidUK) October 9, 2019
Labour & Conservative Parties Are You Listening?
I will vote for any political party who agree to immediately give us the rest of the day off so we can follow this Coleen Rooney/Rebekah Vardy thing properly.

— Richard Osman (@richardosman) October 9, 2019
The Sun is Racing It Seems!!
The Sun is currently racing to delete the 'fake stories' Coleen Rooney invented, that Rebekah Vardy allegedly sold. pic.twitter.com/obNYDhfxtV

— it's...........Ava-Santina (@AvaSantina) October 9, 2019
Wayne Rooney, When He Meets Jamie Vardy
I knew it was you, Vardy. pic.twitter.com/h5oMOCqsKZ

— Greg Johnson (@gregianjohnson) October 9, 2019
Exposed!!
Everyone reading Coleen Rooney's tweet. pic.twitter.com/sxQ01ZyYrs

— Kristian (@vonstrenginho) October 9, 2019
Now We Know Why
0 - Despite spending four hours & 22 minutes together on the pitch for England in total, Jamie Vardy and Wayne Rooney never created a single goalscoring chance for one another. Awkward. pic.twitter.com/qS4H1G93nN

— OptaJoe (@OptaJoe) October 9, 2019
Meanwhile, The Sun, who Coleen accuses of publishing Vardy's leaked stories, denied any involvement in the matter. The tabloid refused to comment about its sources but had deleted all three leaked stories it had earlier published about the Rooneys. The rift between both the sets of English couples are not new and have many times in the past affected the players in the England football team.