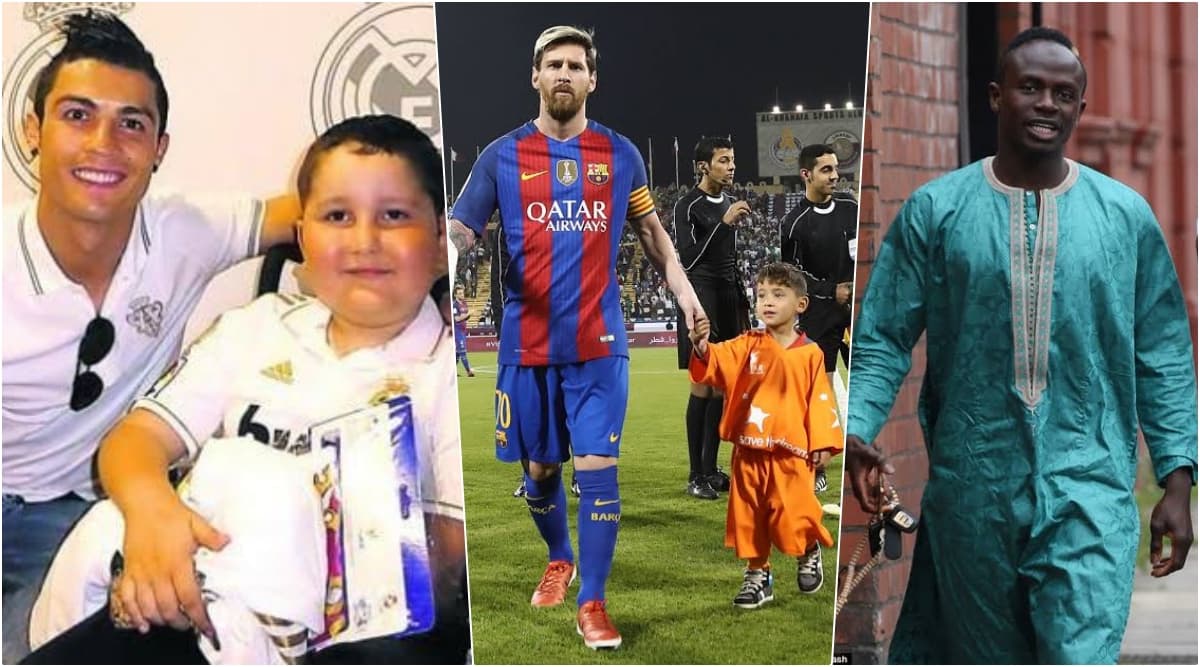 World Kindness Day 2019 is celebrated on Wednesday. Kindness is a virtue which every human should imbibe in themselves but is becoming more and more rare in modern times. The World Kindness Movement - a group of NGO's - in order to celebrate this trait came up with the idea of World Kindness Day in 1988. It is celebrated worldwide on November 13 every year and efforts have been undergoing for long to get it officially recognised by the United Nations. It is basically done to highlight the positive steps taken by communities in order to help those being marginalised in the society. Athletes, particularly those associated with football, have a lot of following, and it is imperative they turn out to be role models for kindness. As we celebrate World Kindness Day 2019, we highlight a few acts of warm-heartedness by soccer stars such as Cristiano Ronaldo, Sadio Mane, Lionel Messi, David Beckham and N'Golo Kante. World Kindness Day 2019 Quotes: Sayings About Kindness That Are Not Only Instagram-Worthy But Also Serve as True Life Lessons.
Cristiano Ronaldo – Portuguese skipper Cristiano Ronaldo is a superstar on the pitch but one of the most gentle souls off it. He regularly donates blood, auctions his awards to raise funds for charity and donates massively to hospitals. One story of him is particularly endearing when Juventus superstar was alerted about Nuhuzet Guillen, a terminally ill cancer patient. The 9-year-old kid, along with his family, was invited by Ronaldo to Real Madrid's team hotel and he also dedicated his goal to him. Cristiano continued to pay for his treatment until he sadly passed away in 2013. From Mo Salah to Lionel Messi to Cristiano Ronaldo, When Footballers Met Their Kiddie Fans and Made Our Hearts Cry!
Lionel Messi – Lionel Messi is a magician when it comes to football, but there is a lot of magic about his personality too. When the Barcelona talisman came to know about a little Afghan boy Murtaza Ahmadi wearing a blue plastic bag with his name and number, he got in touch with his manager to arrange for a signed jersey for the kid. He later invited Murtaza Ahmadi for one of Barcelona's friendly tie.
Sadio Mane – Liverpool forward Sadio Mane comes from a poor village of Bambali in Senegal, and the forward knows how difficult it is to make it big in such trying circumstances. In April 2018, he donated a staggering 200,000 pounds to make a school in his village and regularly donates to NGO's back home. He was also pictured cleaning the toilets of a local mosque in England which speaks volumes about his character.
N'Golo Kante – Chelsea midfielder N'Golo Kante is one of the most adored footballers on the planet owing to his humility and simple lifestyle. Once he missed a train to Paris and visited a local mosque in Kings Cross where an Arsenal fan Badlur Rahman Jalil asked him if he could have dinner at his house. To the latter's surprise, Kante came along with him and played FIFA and watched football with his family.
David Beckham – Football icon David Beckham is a brand ambassador for everything good an athlete can be. He is basically someone who people look up to for his several acts of generosity over the years. From bringing tea and coffee to cycle paramedic Catherine and her patient to helping an old woman who had fallen over with water, Beckham has done it all. Through his charity, Victoria and David Beckham Charitable Trust, he is continuously bringing about a change in the society.
These gentlemen inspire a generation of budding footballers and even the common man that we grow when we learn to give back to the people.