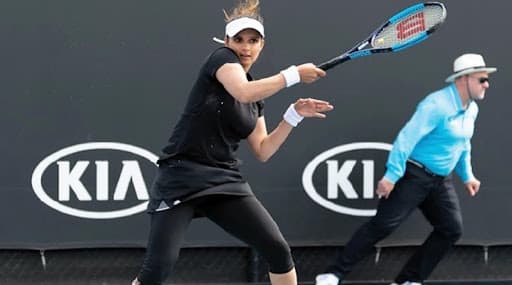 Sania Mirza was brilliant during the Hobart International 2020 as she made her comeback to competitive action in that tournament. The former world number one along with her partner Nadia Kichenok won the finals in the women's doubles category. After the success in Hobart International, Mirza was all set to take the Australian Open by storm but the 33-year-old had to pull out of the tournament due to a calf injury. She was supposed to partner fellow Indian tennis player Rohan Bopanna in the mixed doubles category of the competition. Australian Open 2020: Sania Mirza Pulls Out of Mixed Doubles Due to Calf Injury.
Pulling out of the Australian Open 2020 has not dampened Sania Mirza's spirits. The Indian tennis stalwart recently shared a photo on her social media with a humorous caption addressing her injury. 'लंगड़ा घोड़ा, Humor is the best way to deal your ups but more importantly your downs' the 33-year-old wrote on her post. The former world No.1 took part in the doubles event of the Australian Open but was forced to retire from the contest. Mirza who came out on the court with a heavily bandaged right calf took a medical time out after the first set when the strapping was stiffening up. But as she was unable to continue, the Indo-Ukrainian duo threw the towel at 33 minutes with the score being 2-6, 0-1. Sania Mirza Wins Hobart International Tennis Tournament 2020 Women's Doubles Title On Return After Two-Year Maternity Break.
See Post
Sania Mirza injured her calf during the finals of the Hobart International where she clinched the title with Nadia Kichenok. 'It got quite bad in a couple of games' she said on her injury. 'It was a bit of a strain, but o got a few days off. It felt okay when I got on the court but it was tough to move on the right, it was spasming every time I moved in that direction.' The 33-year-old added.