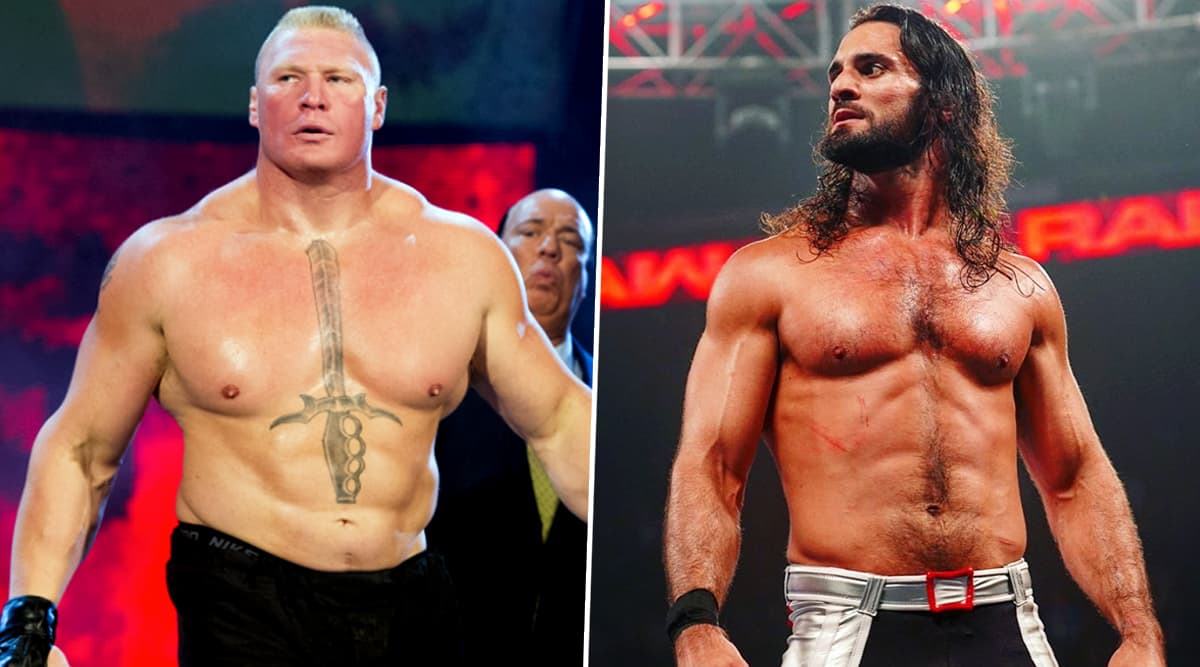 The year 2019 has been a decent year for WWE where fans were provided with some good wrestling action. All three brands of WWE-Raw, SmackDown and NXT lived up to the expectation of fans. We also saw the black and gold brand of WWE gain popularity this year. WWE's flagship event WrestleMania this year was also a huge success as it had the attendance of 82,265 at MetLife Stadium, East Rutherford, New Jersey. Now let us take a look at some of the best matches of WWE from the year 2019 which includes Brock Lesnar vs Seth Rollins, Triple H vs Batista from WrestleMania 35. WWE TLC 2019 Results and Highlights: Bray Wyatt Defeats the Miz; Daniel Bryan Attacks the Universal Champion After Match (View Pics & Videos)
Some of the other good events apart from WrestleMania 35 were Elimination Chamber, Crown Jewel, Survivor Series and the recently-concluded TLC. This year WWE came up with the alter-ego character of Bray Wyatt, the weirdest and bizarre character in the history of WWE. Also, SmackDown moved to Fox on Oct 4, 2019, where Brock Lesnar became the WWE Champion. However, after defending his belt at Crown Jewel against his former MMA arch-rival Cain Velasquez, the Beast Incarnate moved to RAW. Bray Wyatt is the current WWE Champion and he is the part of the blue brand. WWE Raw Dec 9, 2019 Results and Highlights: Seth Rollins & AOP Attack Kevin Owens; Randy Orton Hampers AJ Styles' Chances To Win United States Championship Belt (Watch Videos)
Seth Rollins vs Brock Lesnar, WrestleMania 35
The grandest event of WWE was kicked off with this super-match between Seth Rollins and Brock Lesnar. Seth Rollins defeated Lesnar at this event to win the Universal Championship belt. The Beast Incarnate was successful in defending his title previous year at WrestleMania 34 against Roman Reigns, however this year it was not the same.
Seth Rollins Defeats Brock Lesnar 
Triple H vs Batista
Batista spoiled Ric Flair's 70th birthday celebration by attacking him backstage on Raw this year on Feb 25, 2019. His intention was to provoke Triple H for one last match against him, The Animal got the offer accepted by The Game. Triple H vs Batista no-holds-barred match took place at WrestleMania 35.
Becky Lynch vs Charlotte Flair vs Ronda Rousey, WrestleMania 35
Ronda Rousey, Becky Lynch and Charlotte Flair were involved in the historic triple-threat match at WrestleMania 35. This was the first time ever that a women's match was held at the main event of WrestleMania. Ronda Rousey who was Raw Women's Champion that time, while Charlotte Flair was SmackDown Women's Champion. The stipulation of the match was that the winner will take it all. The Man won the match and bagged both the gold from Raw and SmackDown at the same time. This would indeed be regarded as one of the best matches in the career of Becky Lynch.
Glimpse From Becky Lynch vs Charlotte Flair vs Ronda Rousey 
Ricochet, Pete Dunne & War Raiders vs. Undisputed ERA, NXT WarGames
This NXT match kept the crowd on the edge of their seat. The team of Adam Cole-NXT Champion, Bobby Fish, Kyle O'Reilly-NXT Tag Team Champion and Roderick Strong-NXT North American Champion lost this to Ricochet, Pete Dunne and War Raiders (Raymond Howe and Hanson). This event took place just a night before Survivor Series 2019.
Ricochet, Pette Dune & War Raiders Defeating Undisputed Era 
Kevin Owens vs Shane McMahon Ladder Match, SmackDown, Oct 4, 2019
The stipulation of the match was simple, if Kevin Owens win the match the lawsuit would be lifted away from him and he would be reappointed on SmackDown, on the other hand, if Shane McMahon loses, he would be fired. Kevin Owens won the ladder match, which saw Shane McMahon getting fired from WWE.
Kevin Owens Defeat Shane McMahon in Ladder Match
Fans will now look forward to the upcoming event of Royal Rumble on 27th Jan, 2020 which will begin the road for WrestleMania 36 scheduled to take place at Tampa, Florida on April 5, 2020. Fans would get to know about the exciting matches at WrestleMania 36 in coming days. Stay tuned with LatestLY for more updates and news from WWE.