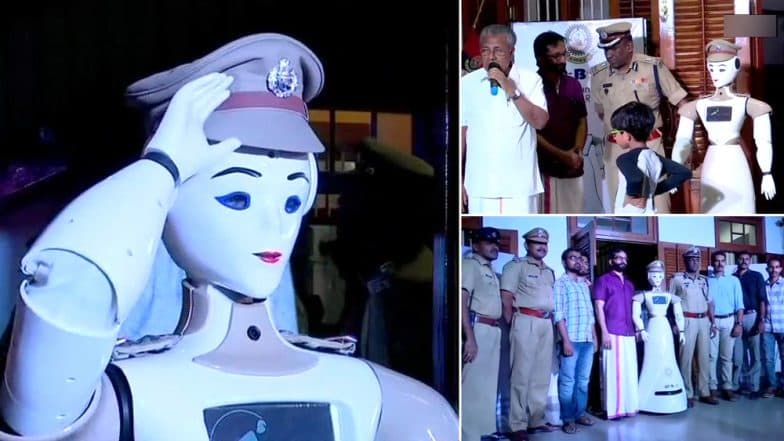 The future of technology is robots replacing human tasks and in some countries, there are fully operational robots which are at work. Now India too has got its first robocop in Kerala. The police department of Thiruvananthapuram has recruited a robot which will help the people around and direct them where to go. Named KP-BOT, this humanoid is the first such robot in the country. It was launched in the state this week. Robo Kitchen: Robot Waiters Serve Food to Guests at This Restaurant in Hyderabad (Watch Video).
Kerala Police Cyberdome which is a technological research and development centre of Kerala Police Department has developed this robot with the help of Asimov Robotics. This Robocop will perform all the front office duties at the Thiruvananthapuram police headquarters. So all the visitors here will first meet this KP-BOT who will then direct them as per their needs. The Robocop is not a regular robot but it has been given a rank of a Sub-Inspector. During the launching, when CM Vijayan welcomed KP-BOT with a salute and it responded back with the same honour. First Robot at Airport: RADA, Artificial Intelligence-powered Robot by Vistara, Installed at Delhi Airport to Assist Passengers.
Check Pictures of Kerala's First Robocop KP-BOT
Kerala: CM Pinarayi Vijayan inaugurated KP-BOT, first humanoid police robot in India, yesterday in Thiruvananthapuram. The robot will perform duties of the front office of police headquarters. It'll receive the visitors & direct them to different places according to their needs. pic.twitter.com/GySUw6RYZ5

— ANI (@ANI) February 19, 2019
KP-BOT is so efficient that it can record a person's data using facial recognition technology. Once all the data is filled it can also help in recognising a criminal. "Humanoids in the future may also be used to investigate crime or control traffic," Kerala's ADGP Manoj Abraham told NDTV. The Robocop can note down the complaints of people, guide them around the police station and also fix up appointments for them. It can also create case files and content the concerned officers via Skype if needed. Robot Rashmi is India's First Humanoid, Can Speak in Hindi, Marathi, Bhojpuri and English.
The Director General of Police (DGP) was quoted to India Today, "Women empowerment and gender equality were kept in mind while deciding on the gender of the first robot. Also, the fact that most front office jobs are managed by women was considered." It is really interesting how a robocop will ease the work on other police officers here. The next plan in line is to equip this humanoid with metal and gas detectors along with thermal imaging.