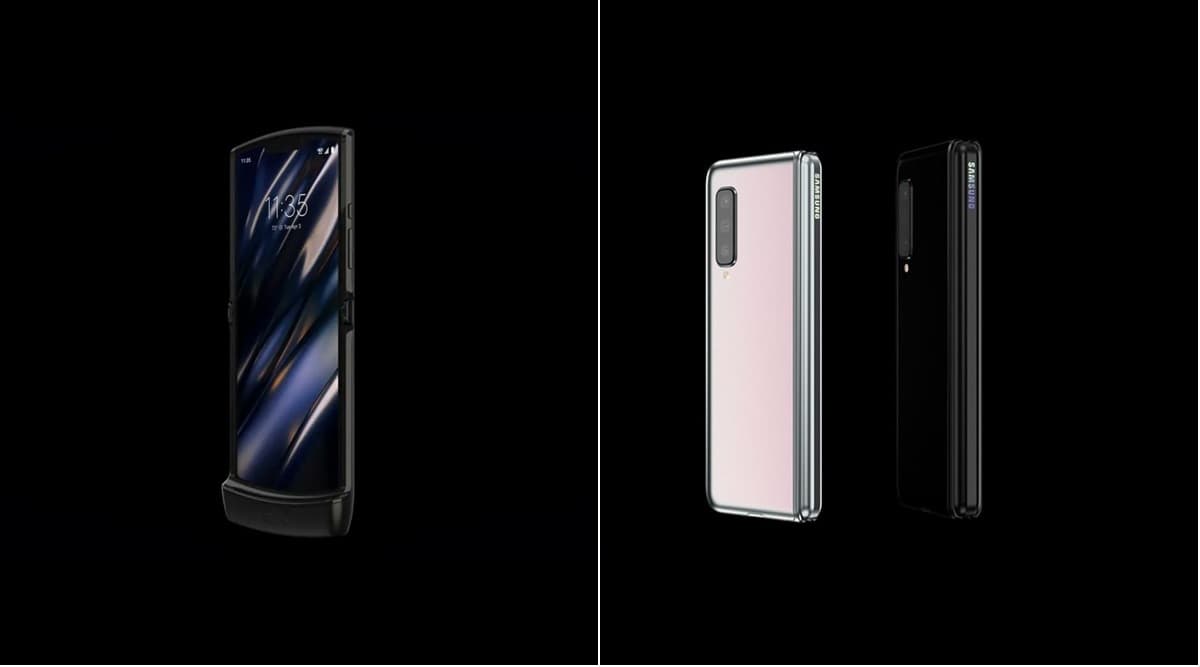 Motorola RAZR 2019 became the third smartphone after Galaxy Fold and Huawei Mate X to feature a foldable screen. The phone was revealed last week at an event in Los Angeles. The foldable smartphone from Lenovo-owned company gives reminisce of Motorola's yesteryear phone - Moto RAZR. With companies moving towards foldable devices, the 2019 RAZR is the first foldable smartphone from Motorola that will go on sale by January 2020 in the US. We have already seen a couple of foldable devices in the market - Samsung Galaxy Fold and Huawei Mate X. We have decided to put the new Moto RAZR 2019 against Samsung Galaxy Fold, which is already on sale in the market. Notably, Huawei Mate X will go on sale in China this week. Motorola Launches Iconic Moto Razr Foldable Smartphone at $1500; Coming To India Soon.
Motorola RAZR 2019 vs Samsung Galaxy Fold: Design - As far as the design is concerned, the overall design of both devices are pretty much similar. The only difference is that the manufacturers are experimenting with form factors of a foldable device.
Motorola RAZR 2019 comes with a 6.2-inch HD+ pOLED foldable display (primary) with the resolution of 876x2142 pixels and 21:9 aspect ratio. The secondary display on Moto Razr is a 2.7-inch gOLED display with a resolution of 800x600 pixels. Samsung Galaxy Fold, on the other hand, sports a bigger 7.3-inch QXGA+ Dynamic AMOLED primary display with 4.2:3 aspect ratio and resolution of 1536x2152 pixels. When folded, the secondary display is a 4.6-inch HD+ Super AMOLED display, that is still bigger than Moto RAZR. Motorola Brings Back Moto Razr as Foldable, Flip, 'Expensive' Smartphone.
Motorola RAZR 2019 vs Samsung Galaxy Fold: Processor - Under the hood, the new Motorola RAZR gets an octa-core chipset from Qualcomm, which is a Snapdragon 710 SoC. The chipset gets a 6GB of RAM & 128 GB internal space. The Galaxy Fold houses an octa-core Snapdragon 855 chipset from Qualcomm. The SoC is coupled with 12GB of RAM and 512GB of onboard space.
Motorola RAZR 2019 vs Samsung Galaxy Fold: Battery - Motorola RAZR Phone gets a 2510 mAh battery whereas the Galaxy Fold is powered by a 4,500mAh battery. Both phones support fast charging technology.
Motorola RAZR 2019 vs Samsung Galaxy Fold: Cameras - As far as the camera capabilities are concerned, the Motorola RAZR gets two cameras. The first camera is a 16MP primary lens for selfies and regular photos. The second shooter is a 5MP camera with f/2.0 aperture for selfies and video calling.
The Samsung Galaxy Fold gets three-camera setup wherein the main camera module includes a 16MP ultrawide lens, 12MP wide-angle and a 12MP telephoto sensor. The second setup comprises of a 10MP lens and an 8MP camera. The third camera is a single 10MP shooter with f/2.2 aperture.
Motorola RAZR 2019 vs Samsung Galaxy Fold: OS - Both Motorola Razr and Samsung Galaxy Fold phones run on Android 9 Pie. However, Motorola Razr uses stock Android version whereas the Galaxy Fold employs a tweaked version of OneUI. Motorola Razr will be offered in January 2020 as a 4G LTE variant whereas the Galaxy Fold will be made available in both 4G and 5G versions.
Motorola RAZR 2019 vs Samsung Galaxy Fold: Price - As per the company, Moto RAZR will cost $1,499.99 (around Rs 1.08 lakh) for the US market. On the other hand, Samsung Galaxy Fold currently retails at $1980 in the US. However, the Galaxy Fold is priced at Rs 1.65 lakh. As of now, there is no confirmation if Motorola will be launching the RAZR 2019 in India.