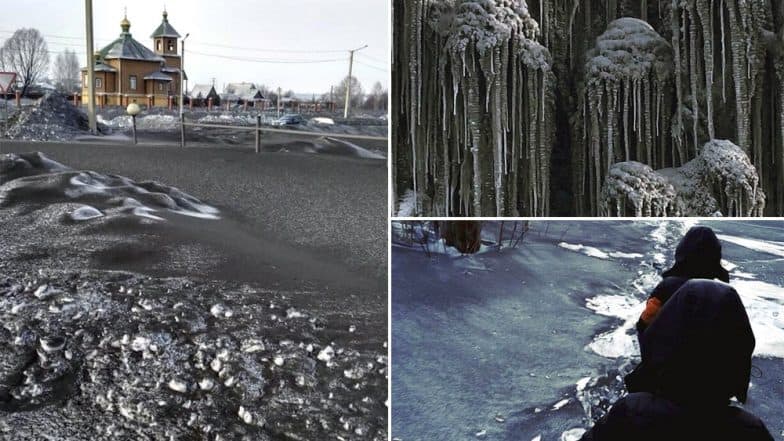 Think of snowfall and you'd have images of fresh white snow depositing and creating white blankets around. White snow transforming places into a winter wonderland. But some parts of Siberia in Russia are far away from wonderland, as its black snow around them everywhere. A town called Prokopyevsk, which is known for its coal mining is blanketed in black snow, thanks to the pollution from the coal dust. The pollution is the region is so high that it has made all their surroundings dark with black snow. Pictures of black snow are being shared on social media platforms. World's Coldest Village Oymyakon in Siberia Records -62 Degrees and People's Eyelashes are Freezing!
People are also worried about the health of the kids in the area, as the playgrounds and school areas too are covered in the dirty snow. The dust from the nearby mining plants has deposited on the snow making it all black. The towns of Kiselyovsk and Leninsk-Kuznetsky in Siberia's Kemerovo region are severely affected by this polluted black snow. Orange Coloured Snow in Eastern Europe Transforms it Into Martian Land Lookalike! See Pictures.
View Pictures and Videos of Black Snow in Parts of Siberia
Snow in Hell?
Is this what snow looks like in hell? EERIE BLACK SNOW falls in Siberia, Russia #snow #black #pollution #Russia https://t.co/szVuJz0TVg via @Strange_Sounds pic.twitter.com/IVCoxDU3f1

— Strange Sounds (@Strange_Sounds) February 15, 2019
Dark Snowscapes
Black Snow Falls From Sky in Russia's Siberia, caused by Weather and Industrial pollution. #Siberia #BlackSnow pic.twitter.com/jzoy3f9Kd8

— Photo Geo 🌎 (@PhotoTimeGeo) February 18, 2019
Devastation of Black Snow
#Russia is a country of outstanding natural beauty and diversity. But the sheer lack of environmental regulations is a devastating effect for residents in #Kuzbass, where last night there was BLACK SNOW. pic.twitter.com/zMiEWBJbnh

— Khodorkovsky Center (@mbk_center) February 14, 2019
Indeed a scary sight right? The black snow is a persistent problem but there is no quick solution to the coal dust that is emitted from the processing plants. The Kuznetsk Basin is among the largest coal mining areas in the world and it produces almost 60% of Russia's coal needs. People staying around these towns are almost playing with their lives, due to the harmful effects of this pollution. The life expectancy of people living here is up to four years lesser than Russia's national average as per reports.
Anatoly Volkov, director of the Prokopyevskaya coal plant, said "we can't tackle coal dust in the streets.'' The local prosecutors checked upon the local plants to see if any pollution standards have been breached. It is indeed scary to have thick black snow everywhere and it poses great risks to the health of the people that continue to live here.