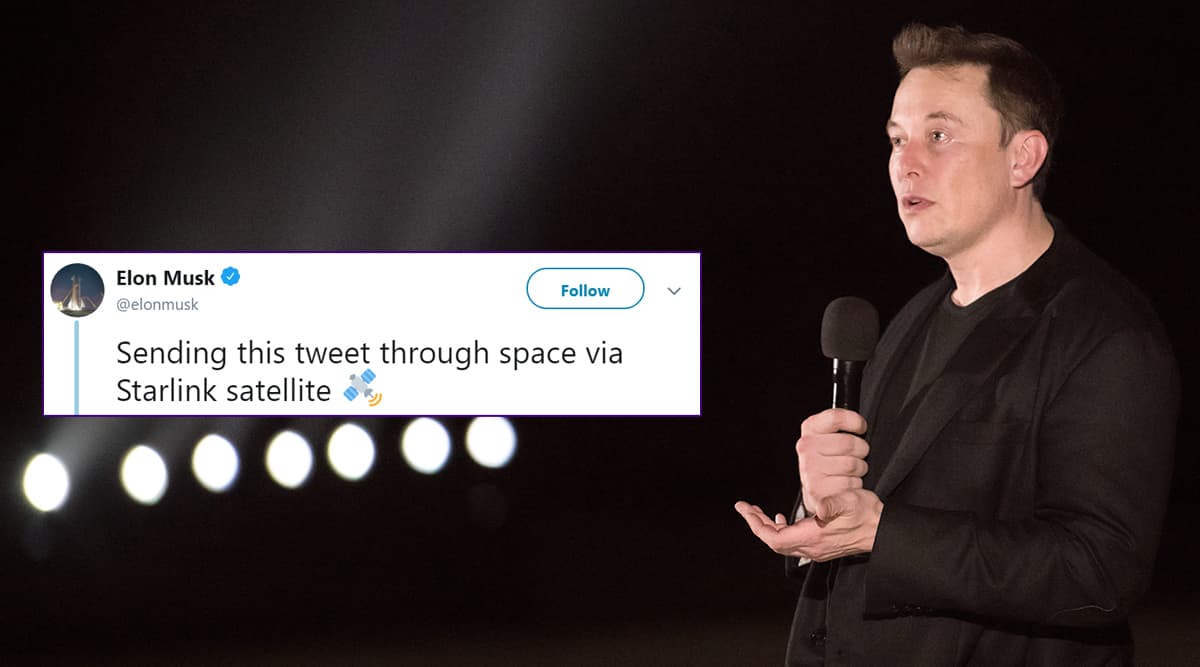 SpaceX founder Elon Musk is working on his ambitious project of the Starlink Satellite, to implement a new space-based Internet communication system. And in his latest tweet Musk claims that he was able to tweet through space! In a series of two tweets, Elon Musk mentioned how he was trying to send a tweet through space via the Starlink Satellite. In a thread to it, he wrote that it worked. And Twitterati is amused with Musk's tweet, some giving funny reactions in disbelief, while others want the internet password. Elon Musk Spells Neil A Backwards as Alien and Gets Trolled; What Are Semordnilaps?
Starlink is a satellite constellation development project which aims to set up a space-based internet communication. SpaceX has already deployed 62 satellites in May 2019 and the recent reports mention that Elon Musk has sought permission for 30,000 more such Starlink satellites. The total will reach a maximum of 42,000 such internet satellites. The goal is to provide high-speed internet coverage to the entire planet from space. Now Musk has confirmed that he was able to tweet through space. Somebody Photoshopped Elon Musk's Face Onto Dwayne Johnson Muscular Body and the Result Is Mind Boggling; Musk's Reaction Is Epic!
Check Elon Musk's Tweet on Starlink Satellite:
Sending this tweet through space via Starlink satellite 🛰

— Elon Musk (@elonmusk) October 22, 2019
Whoa, it worked!!

— Elon Musk (@elonmusk) October 22, 2019
Musk's followers were, however, did not seem as impressed with his claim. His tweet has got certain hilarious responses, some of utter disbelief. Check some of the responses below.
Are There Memes?
what was the first meme loaded over star link ?

— Steve Jobs Ghost 👻 (@tesla_truth) October 22, 2019
Jumping Off
hello!! pic.twitter.com/GrkSWNjbcL

— emma (@emmaloveselon) October 22, 2019
Tweet From Mars
Sending this tweet via Martian spaceship

— Mars (@4thFromOurStar) October 22, 2019
Go Home, Alexa
And I thought sending messages via Alexa to next room was cool. pic.twitter.com/IUopz5vpYS

— The Short Shorts Historian (@TeslaHistorian) October 22, 2019
Just Give The Password!
My internet is slow rn

What's Starlink's password?

— Evelyn Janeidy Arevalo (@JaneidyEve) October 22, 2019
So the concept seems to have impressed some while others just wanted to have a little fun with it. Well, Elon Musk's Twitter account has been a source of entertainment for some because of his cryptic tweets that the Tesla CEO keeps on posting once in a while.