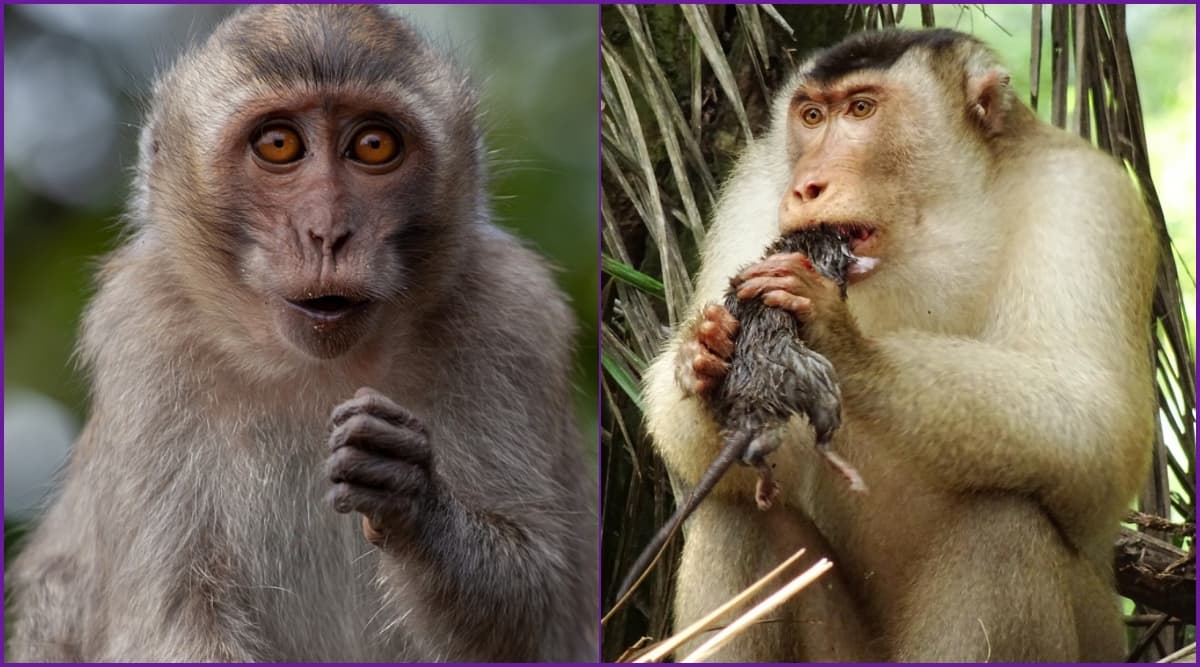 Monkeys are more often considered a menace in most human colonies. The primates are more likely to snatch, steal and cause damage especially when they are in a group. But scientists have discovered killer monkeys who are feasting on rats in Malaysia! Pig-tailed macaques are frequent visitors at the oil palm plantations and many of them are eating rats. While it is shocking enough, scientists also mention that these hungry predators can act as a pest control measure. This finding research has been mentioned in the Current Biology journal.
The species of southern pig-tailed macaques are thought to be feeding mainly on fruits. Their small preys included lizards or other such insects. But researcher Nadine Ruppert from Universiti Sains Malaysia had been studying the behaviour of these monkeys since 2016 led by Anna Holzner from the University of Leipzig. They observed groups of monkeys living in Malaysia's Segari Melintang Forest Reserve and the surrounding oil palm plantation. "I was stunned when I first observed that macaques feed on rats in the plantation. I did not expect them to hunt these relatively large rodents, or that they would even eat so much meat," mentions Rupert, the co-author of the new research. Monkey Shuts Tap After Drinking Water, Gives Us all an Important Lesson on Water Conservation (Watch Video).
Here's a Picture of Monkey Eating a Rat:
Wie eklig ist das denn? Nee, nicht eklig, sondern hilfreich! #Makaken fressen Ratten auf #Palmoel-Plantagen und steigen so deren Ertrag. #Wissen #Umwelt #Tiere https://t.co/6oXVWDKWRj (Bild: Anna Holzner / MPI für evolutionäre Anthropologie) pic.twitter.com/SqNVR1PS32

— BR - Wissen (@BR_Wissen) October 22, 2019
These monkeys also ate a considerable amount of oil palm fruits. But the damage caused by rats in the field is far more compared to the fruits eaten by these macaques. The research further mentions that a single group of pig-tailed macaques can snatch 3,000 rats per year. So these monkeys can act as a far more effective means of pest control compared to the insecticides which are expensive and even damage the environment. Did You Know There's an Island of Drunk Monkeys in Africa?
Scientists also gave an estimate, these macaques could potentially reduce the damage inflicted by rats from 10 per cent down to 3 per cent. This, in turn, will benefit the yield of palm oil. So while these monkeys may also be eating the fruits, they are more than balancing with their habit of killing rodents as preys. This research also draws attention to the need for protecting these macaques.