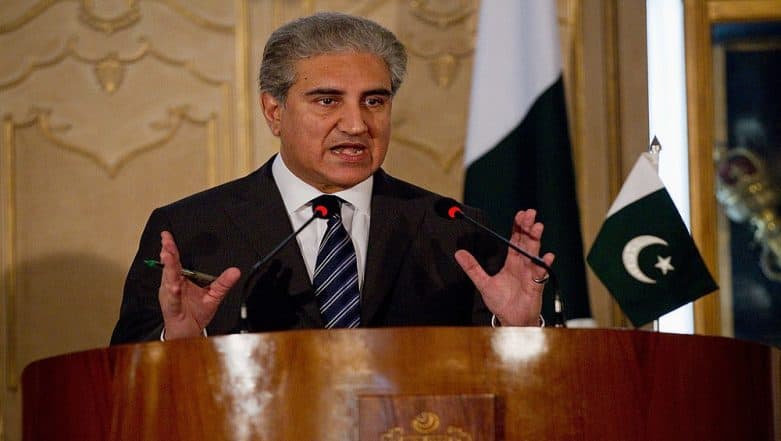 New York, September 13: An "accidental war" may break out between India and Pakistan due to unfolding situation in Jammu and Kashmir, said Pakistan's Foreign Minister Shah Mehmood Qureshi on Wednesday. Speaking to journalists on the sidelines of the UN Human Rights Council session in Geneva, Qureshi said that he believed both Pakistan and India "understand the consequences of a conflict". Imran Khan Switched Pakistan's Kashmir Policy From 'How to Capture Srinagar' to 'How to Save Muzaffarabad': Bilawal Bhutto Zardari.
Qureshi said that "an accidental war" cannot be ruled out. "… If the situation persists ... then anything is possible," he added. The minister also ruled out the possibility of dialogue between India and Pakistan. "In this environment and with the mindset that we see in New Delhi today, I do not see any room for bilateral engagement," he said, adding that third-party mediation was required to resolve the tensions.
"If the US plays a role that can be important because they have a considerable influence in the region," Qureshi said. Last month, Pakistan's Railways Minister Sheikh Rashid Ahmed said that a full-blow war between Pakistan and India would take place in October or the following month. Pakistan Prime Minister Imran Khan had also warned of a looming threat of nuclear war due to "appeasement" of India.
In his article titled "The World Can't Ignore Kashmir. We Are All in Danger" in The New York Times, Imran Khan said that "if the world does nothing to stop the Indian assault on Kashmir and its people, two nuclear-armed states will get ever closer to a direct military confrontation". Khan had urged the international community to "think beyond trade and business advantages".
Tensions between India and Pakistan once again soared after the Modi government scrapped the special status of Jammu and Kashmir under Article 370. Pakistan has alleged large-scale human rights violations and violence in Jammu and Kashmir. The Indian government and the Kashmir administration, however, have stoutly denied Pakistan's allegations.