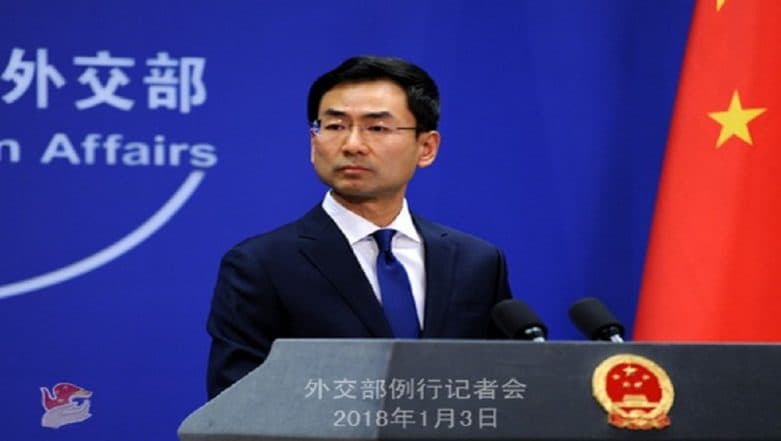 Beijing, May 8: China on Wednesday urged all parties to uphold the Iranian nuclear deal after Tehran announced to partially pull out of the pact by resuming high uranium enrichment.
Beijing, a party to the pact inked in 2015, also said it regretted the unilateral actions by the US against Iran that pushed Tehran to the brink of withdrawing from the agreement. Iran to Gradually Withdraw From 2015 Nuclear Deal, Announces President Hassan Rouhani.
"Upholding and implementing the joint commission of the Joint Comprehensive Plan of Action (JCPOA) is the common responsibility of all the parties. We call on all parties to exercise restraint and strengthen dialogue and avoid escalation of tensions," said Chinese Foreign Ministry's spokesperson Geng Shuang.
"We will be in communication with all parties to continue to uphold the treaty and the legitimate rights of Iran."
In a televised speech, Iran's President Hasan Rouhani said Tehran was reducing its own commitments under the agreement and would no longer respect limits on its reserves of low-enriched uranium.
"JCPOA is a multilateral treaty endorsed by the Security Council. It is vital to the international non-proliferation regime, peace and stability in the Middle East. Thus, it should it be implemented effectively and fully," Geng said.
"China applauds Iran's faithful implementation of the JCPOA so far... and firmly opposes the US' unilateral sanctions. We regret the US actions that have escalated the tensions surrounding the Iranian nuclear issue," he added.
Iran had signed the landmark nuclear deal with the US, Russia, China, France and the UK plus Germany, aimed at curbing Tehran's nuclear ambitions in return for sanctions relief.
The US pulled out of the deal last year, resuming sanctions against Iran. Now, exactly after a year of the US withdrawing from the deal, Tehran said it will resume high-level uranium enrichment if global powers fail to keep their commitments within the next 60 days.