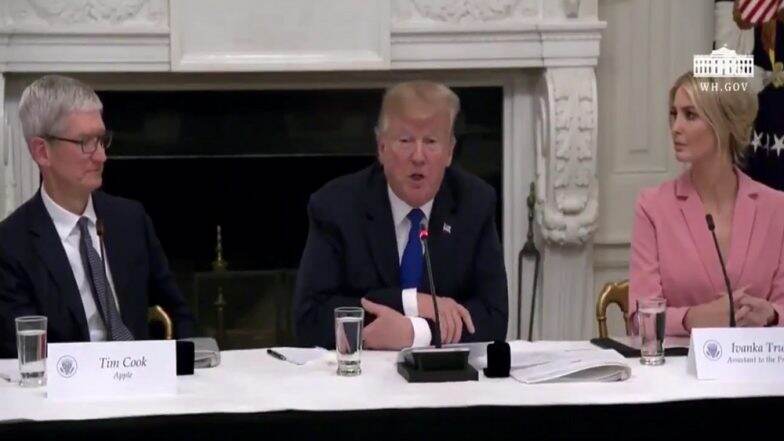 Toronto, March 8: It was a high-profile meeting at the White House, where US President Donald Trump met with various corporate heads who sit on the American Workforce Policy Advisory Board. But the most notable moment of the meeting was the US President's faux pas which involved Apple CEO Tim Cook, and this incident could possibly go down in history as his most infamous one.
Trump while addressing the board members, singled out Apple CEO Tim Cook for praise but shot himself in the foot instead or rather put his foot in his mouth  -- whichever adage fits. "People like Tim - you're expanding all over and doing things I really wanted you to right from the beginning," Trump spoke to Cook, who was sitting right next to him. "I used to say, 'Tim, you've got to start doing it over here,' and you really have. You really put a big investment in our country. We appreciate it very much, Tim Apple."
Tim Cook as well as Trump's daughter Ivanka, who is also a senior advisor to the president just nodded along without changing their expression at the misnomer.
Trump just called Apple CEO Tim Cook "Tim Apple" pic.twitter.com/gTHHtjWvc9

— Sean O'Kane (@sokane1) March 6, 2019
The US President's gaffe has gone viral and the video has been viewed over 3.5 million times.
Unfortunately, this is not Trump's first time at messing up people's names, especially those of notable figures. Trump has in the past called Marillyn Hewson, the CEO of Lockheed Martin, Marillyn Lockheed.
He has addressed people from his own government with incorrect names on camera – calling former House Speaker Paul Ryan as "Ron" multiple times during a speech. He referred to Chuck Canterbury, the National President for South Carolina Police force, as "Ken." And leaders of countries have not been spared either. Trump once conflated Israeli prime minister Benjamin Netanyahu's name into "Betanyahu."