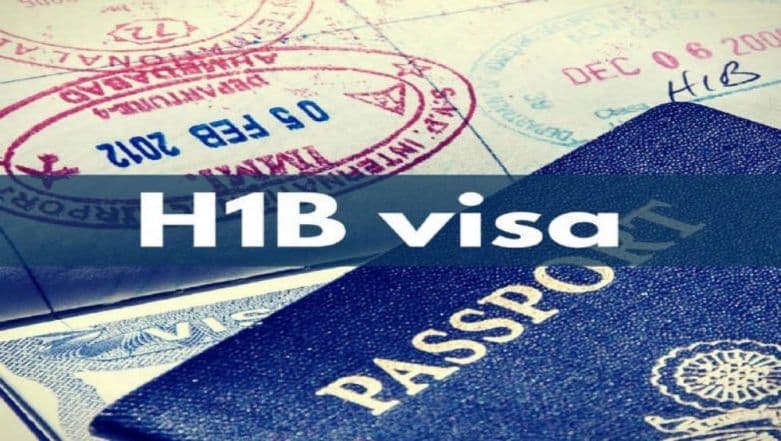 Washington, April 13: The number of applications for the H-1B visa that allows the US companies to employ foreign workers in speciality occupations has risen slightly in last year after two years of decline. The US Citizenship and Immigration Services (USCIS) has received 2.01 lakh applications for H-1B visa for the current season 2019-20 (the fiscal year 2020). This is a little over 10,000 compared to last year.
There was a slight decline in the number of applications for H-1B visa in the last two years. The fiscal year begins from October 1, 2019, and the USCIS started receiving the visa petitions from April 1. Last year, the USCIS received 190,000 cap-subjected H-1B petitions. In 2018, it received 199,000 applications while in 2017, 236,000 petitions in the first five days after it started receiving the applications. H-1B Visa Allocation to Top 5 Indian IT Firms Drops by 49%, US Restrictions Compel Tech Companies to Hire More Locals.
On April 5, the USCIS, the federal agency mandated with task of approving such applications, said it has reached Congressionally-mandated 65,000 H-1B visa cap for the fiscal year 2020. The agency had also said that it would determine if it has received a sufficient number of petitions to meet the 20,000 H-1B visa US advanced degree exemption, known as the master's cap.
The US issues 65,000 H-1B visas annually under the regular cap (also known as general quota). An additional 20,000 H-1B visas are allotted to those having an advanced degree from US universities under the master's cap. H-1B is the most sought-after work visa among foreign, including Indian, professionals.
The technology companies depend on it to hire tens of thousands of employees each year from countries like India and China. In April 2017, US President Donald Trump, had issued the 'Buy American and Hire American Executive Order', instructing the Department of Homeland Security (DHS) to "propose new rules and issue new guidance, to supersede or revise previous rules and guidance if appropriate, to protect the interests of US workers in the administration of our immigration system."
The executive order specifically mentioned the H-1B program and directed the DHS and other agencies to "suggest reforms to help ensure that H-1B visas are awarded to the most-skilled or highest-paid petition beneficiaries."