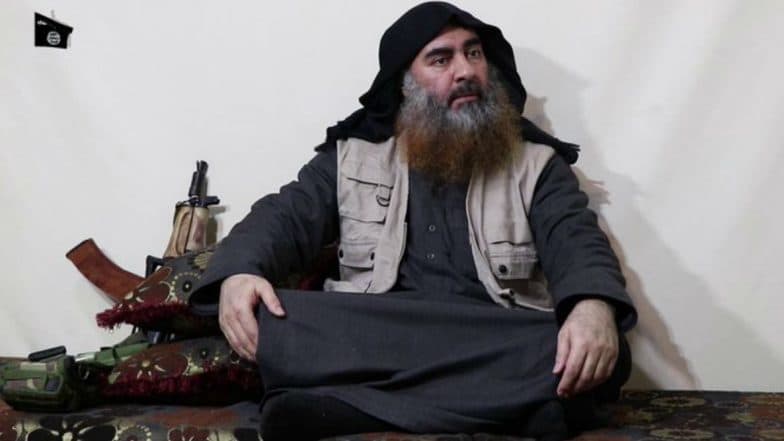 Baghdad, October 28: The key to the tracking down and assassination of Islamic State (ISIS) chief Abu Bakr Al-Baghdadi was Islamel Al-Ethawi, one of his former aides, said a senior Iraqi Intelligence officer while speaking to reporters. Ethawi, who was captured earlier this year in a joint US-Turkish-Iraqi raid, had revealed information related to Baghdadi's hideouts and the modus operating used by him for moving from one place to another. Abu Bakr Al-Baghdadi 'Died Like a Dog': Donald Trump Confirms Demise of ISIS Chief in 'Daring Night Time Raid' by US Forces.
Ethawi, who was one of the three men seen in the last video of Baghdadi released by ISIS' Al-Amaq news agency in April this year, had revealed to the Iraqi intelligence officer that his former boss was hiding in Idlib, said a Reuters report quoting the Iraqi official.
Ethawi had told the interrogators that Baghdadi's movement was severely restricted, and he would travel once in a few months in a minibus along with his wife and children. Commanders of the ISIS would be present in the vehicle -- which would be overloaded with vegetables to prevent his detection.
After the information received from Ethawi, a joint team of Intelligence officials were keeping a close watch at the hideout in Idlib where Baghdadi was residing. Since it was a busy market place, no attempt was being made to carry out a raid at his hideout.
The officials kept waiting for Baghdadi's movement, and gave the green signal for the covert US operation once the ISIS chief was seen moving out from his hideout. He was tracked to the nearby village in northwest Syria where he was travelling with his wife and children.
The American forces seized the opportunity through a midnight raid at the hideout in a village where he went with his family members. The operation was a complete success, declared US President Donald Trump on Sunday, confirming that Baghdadi has been assassinated while no casualties were incurred by the American troops.