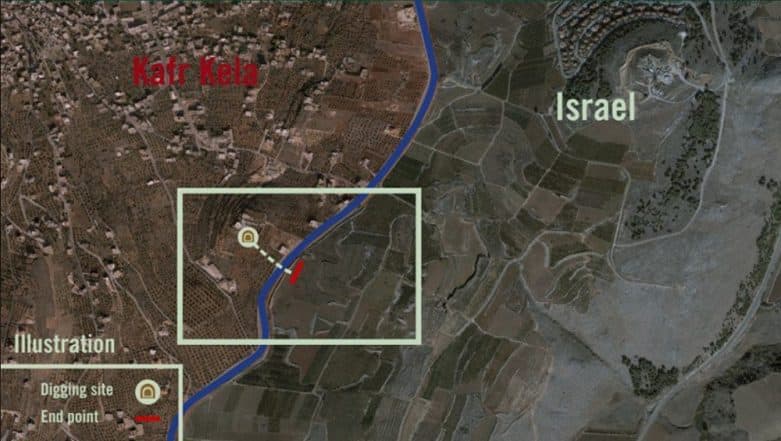 The Israeli Army has launched operation 'northern shield' to destroy tunnels dug up by Lebanon's armed group Hezbollah – from Lebanon to Israel. The operation was announced by the Israeli military on Twitter on Tuesday.
In a tweet, Israeli military spokesperson Avichay Adraee said the Lebanese government is responsible for the build-up of the tunnels, saying they are endangering Lebanese citizens.
BREAKING: We have just launched Operation Northern Shield to expose and neutralize cross-border attack tunnels dug by Hezbollah from #Lebanon to #Israel. #NorthernShield pic.twitter.com/HKgnbhn23I

— Israel Defense Forces (@IDF) December 4, 2018
Israeli Prime Minister Benjamin Netanyahu said his country would continue to take action to ensure the "security of Israel". "Whoever tries to attack the State of Israel will pay a heavy price," Netanyahu said in a statement. "We will continue with additional actions - open and covert - in order to ensure the security of Israel."
Israel's Haaretz newspaper reported the Israeli military had information since 2006 that Hezbollah was trying to construct a network of tunnels from Lebanon into Israel. Since then, Hezbollah chief Hassan Nasrallah has spoken of a plan to take over parts of the Galilee, in northern Israel, in a future conflict.
Lebanese online news portal Tayyar reported that the Israeli army was excavating areas opposite the Lebanese villages on the southern border.
80+ft underground

6ft wide

6ft tall

130ft into Israeli territory

This Hezbollah attack tunnel extends from under a home in southern Lebanon, 600+ feet through solid rock and into Israel.

Identified. Exposed.#NorthernShield pic.twitter.com/gTB6x5FLSS

— Israel Defense Forces (@IDF) December 4, 2018
The construction of the tunnels is a violation of UN Security Council resolution 1701, which ended the 2006 Second Lebanon War, explained Israel's Defence Forces Spokesperson Ronen Manelis in an interview to Army Radio on Tuesday. "The fact that Hezbollah has tunnels crossing the border into Israeli territory is proof of a flagrant violation of Israeli sovreignty," Manelis said. "We see this as a very serious situation that hurts Lebanon and the citizens of Lebanon, and we hold the Lebanese government accountable. We have indisputable proof that the Lebanese government is not in control of their border. Iranian money is behind these tunnels."