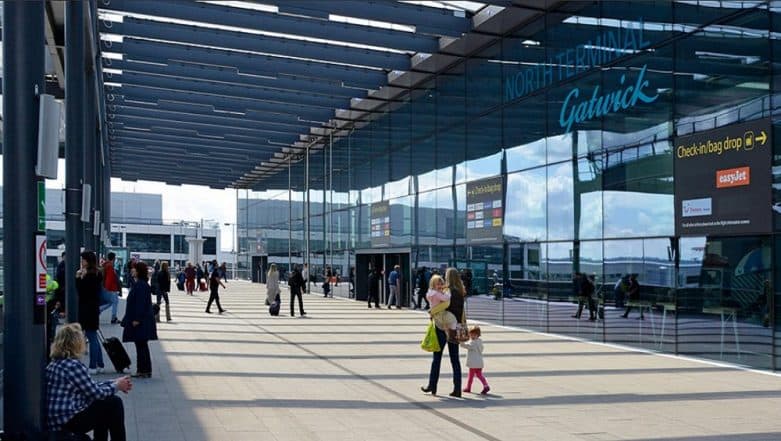 London's Gatwick airport has been a scene of chaos for nearly 24 hours now as over 800 flights have been cancelled affecting nearly 1 lakh passengers as two drones have been spotted multiple times around the airport perimeter since Wednesday.
Gatwick airport is the second busiest airport in the UK and sees approximately three million passengers travel through its corridors during the Christmas/New Year period.
Two drones were first sighted on Wednesday afternoon inside the airport's perimeter and close to the runaways in use by various airlines. The drones have since been sighted throughout the day at different locations. Owing to their larger size, police believe those controlling the drones could be at a considerable distance from the airport's vicinity.
The drones described as "commercial" by the UK transport secretary, and "industrial" by police are being called a deliberate stunt to disrupt the airport's operations at its busiest time of the year. News reports confirmed by police officers said there had been up to 50 drone sightings, including on Thursday evening. The Sussex police said, "We don't know what the drone specification is. Our working assumption is it's larger than what someone might buy online, we think it may have been adapted and developed. We're working through CCTV footage and trying to identify the make and model."
#GatwickDrones | We are appealing for information to help us identify the operators of the #Gatwick #drones. If you know who's responsible or have any information please call 999 and quote ref 1350-19/12. Please RT pic.twitter.com/jkcakBohMr

— Sussex Police (@sussex_police) December 20, 2018
#GatwickDrones | The #drone image in our previous tweets was used for illustrative purposes only and not the devices being sought. It is believed that the #Gatwick devices used are of an industrial specification. We are continuing to search for the operators pic.twitter.com/NBW6Oh1M3c

— Sussex Police (@sussex_police) December 20, 2018
Gatwick chief executive Stewart Wingate agreed it was a "highly targeted activity" saying, "It cannot be right that drones can close a vital part of our national infrastructure in this way. This is obviously a relatively new technology and we need to think through together the right solutions to make sure it cannot happen again."
Drones as they increase in size pose a serious security risk from crashing into aircrafts to being able to carry explosives. If flown close to an aircraft, they can be sucked into engines or crash into the cockpit window, injuring or killing a pilot. The continued drone sightings have led the UK government to deploying the Army at the Gatwick airport.
Defence Secretary Gavin Williamson confirmed the military deployment on Thursday evening. He said: "The armed forces have a range of unique capabilities and this isn't something we would usually deploy but we are there to assist and do everything we can so that they are in a position to open the airport at the earliest opportunity."
The Army has been deployed, but it was confirmed the airport would remain shut on Friday. Passengers have been contacted to not come to the airport if their airline has not confirmed their flight.