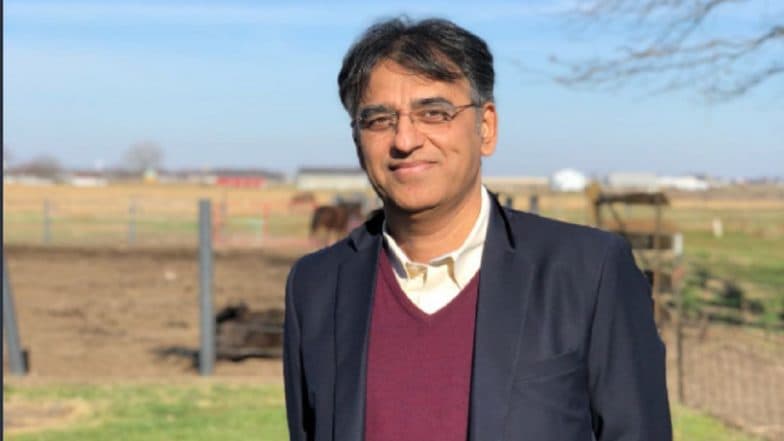 Mumbai, April 19: Pakistan's Finance Minister Asad Umar, who has spearheaded the Imran Khan government's effort to try and resurrect the country's crumbling economy will be stepping down from his cabinet position. He will also not be taking up any other role in the government, according to a tweet he put out on his account.
Umar, who has represented Pakistan in the bailout talks with the IMF as well as been extremely candid about the tough decisions that need to be taken to put Pakistan's economy on the path to recovery was the country's finance minister for just nine months. He had faced mounting criticism for the high inflation impacting the lives of the common Pakistani.
In his tweet, Umar said, "As part of a cabinet reshuffle PM desired that I take the energy minister portfolio instead of finance. However, I have obtained his consent to not take any cabinet position," he added.
After announcing his decision to step down, Umar addressed a press conference in which he was asked whether his removal from the finance ministry was due to backstabbing in the party or the government. The Pakistani finance minister did not give a direct reply to this question and instead said, ""I came into politics so that I could do something for the betterment of the country. I don't know if there has been a conspiracy or not [to remove me] but all I know is that my 'captain' wanted to see me in the role of the energy minister. I did not think that would be a great idea so I refused."
Cash-strapped Pakistan is seeking its 13th IMF bailout package of at least US $8 billion from the IMF. It is suffering from a severe balance-of-payments crisis that threatens to bankrupt the country's economy.
He was also unapologetic about his decisions such as agreeing to an IMF bailout package which has stringent conditions attached along with requesting a sizeable donation from friendly countries such as China, Saudi Arabia and the UAE. Umar said, "We have finalised the IMF agreement on much better terms than before. It is the time to take difficult decisions; I have made these decisions, I refused to take the decisions that would have crushed the nation."