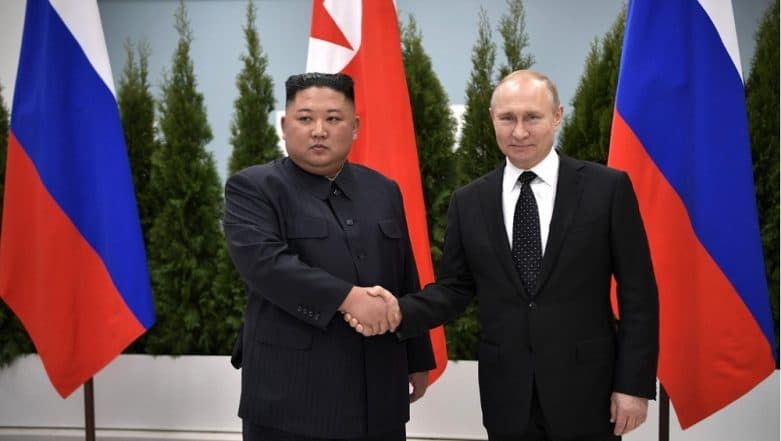 Mumbai, April 26: After the first meeting between Russian President Vladimir Putin and North Korea's leader Kim Jong-Un, the message for the U.S. was clear – that Pyongyang has inserted other countries into the denuclearisation talks and it will not give up its nuclear weapons without considerable returns.
Putin said after his meeting with Kim Jong-Un on Thursday that North Korea would need security guarantees before it could pursue nuclear disarmament. Putin added that those guarantees, if they are to work, would need to be offered within a multi-national framework. The Russian president said he was asked to pass on the message to the United States. "There are no secrets here, no conspiracies... Chairman Kim himself asked us to inform the American side of his position," Putin said.
He said Russia certainly supported the U.S. call for complete denuclearisation of the Korean Peninsula. "This is certainly a common priority," he added.
After the meeting, Putin also said that he was willing to look at the de-nuclearisation conditions that the U.S. has proposed with North Korea. This is a move that will not be welcomed by anyone in the U.S. but is exactly where Pyongyang wants itself to be – being backed by an American challenger. "We need to restore the power of international law, to return to a state where international law, not the law of the strongest, determines the situation in the world," Putin said after meeting Kim.
Kim Jong-Un's outreach to Russia comes after talks with the U.S. have stalled following the failed Hanoi Summit. North Korea has accused the U.S. of adopting a gangster-like stance during the denuclearisation negotiations.
Meanwhile, Kim's appreciation for Putin's support was highlighted in his effusive praise of the two country's historical ties and the importance of the relationship saying both nations had overcome "every hardship thrown to them by history". "The people of the two countries ... understand [that the] North Korea-Russia tie not only serves our mutual interests but is also indispensable for securing the region's peace and stability," Kim said.
Putin is the sixth world leader to meet Kim Jong-un since the North Korean leader took it upon himself to end the country's isolation due to its nuclear activities.  Besides Putin and Trump, Kim Jong-un has met Chinese President Xi Jinping, South Korean President Moon Jae-in, Singapore's Prime Minister Lee Hsien Loong and Vietnamese President Nguyen Phu Trong.