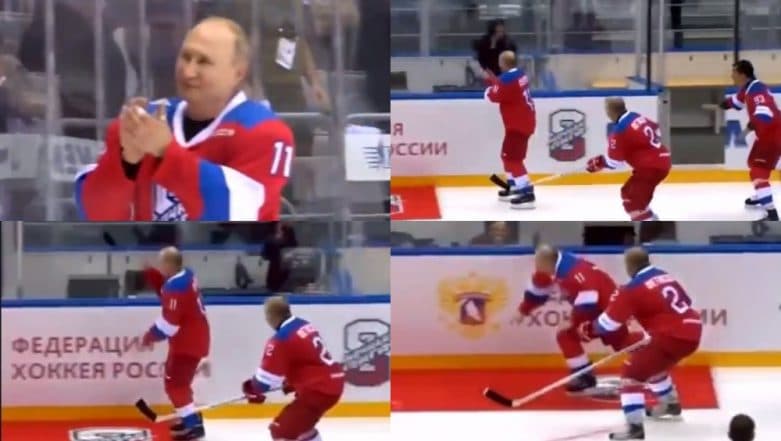 Moscow, May 11: The red-carpet moment during his country's annual hockey exhibition on Friday did not go as planned for the Russian President Vladimir Putin. The Russian chief scored several goals in an exhibition ice-hockey game with former NHL players, but fell while taking a victory lap and tumbled on a red carpet that was placed on the ice.
After scoring 8-10 goals in the Night Ice Hockey League gala - which led to his team's victory - Putin was skating around waving to fans in Sochi. While he was on his way to waive the supporters, someone had put a red carpet along the boards and Putin was heading straight toward it. Vladimir Putin, Kim Jong-un Come Face-to-Face in First Ever Summit Between North Korea and Russia Since 2011. 
According to reports in the international dailies, Hall of Fame defenseman Slava Fetisov sped up to try to warn his country's leader, but was too late and the result was that Putin took a tumble. However, with support from his friends - featuring retired Russian NHL players and political and business leaders - the Russian President stood up as nothing happened and continued to skate and wave.
Here's the Video:
That carpet has done more to hold Vladimir Putin to account than Trump has. https://t.co/YPmuQmqWpC

— Scott Challeen (@ScottChalleen) May 11, 2019
Earlier too, Putin had participated in these games and have scored numerous gaols. USA Today reports that two years ago, Putin had scored seven goals in the match. This match has become an annual tradition. This year he played on the "Legends" team alongside Russian hockey stars such as Slava Fetisov and Pavel Bure.