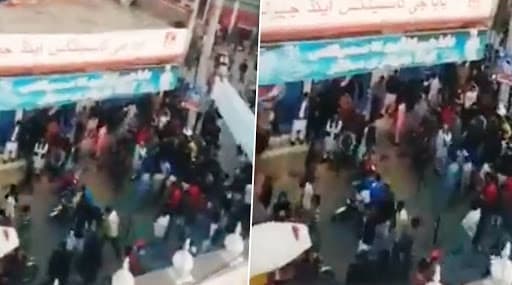 Islamabad/Amritsar, January 3: Innumerable residents of Nankana Sahib on Friday allegedly pelted stones on Gurdwara Nankana Sahib, which is also known as Gurdwara Janam Asthan and situated in city of Nankana Sahib of Pakistan. Reports state that the mob was led by the family of Mohammad Hassan -- accused in abducting and converting Sikh girl Jagjit Kaur. The abducted girl is daughter of the gurdwara's pathi.
According to a report, published by news website India Today, points out that the mob surrounded the gurdwara at around 7 pm on Friday and were threatening to destroy it. Following this, Pakistan Rangers personnel took the charge and have started arresting the protesters to quell the situation. Staging their protests, the mob could be heard shouting, "No Sikh will remain in Nankana." The video also points out that the the protesters are against the presence of Gurdwara in thier locality and claim to change the name of place from Nankana Sahib to Ghulaman-e-Mustafa. PM Narendra Modi Says 'Hopeful 2020 Marks Continuation of People-Powered Efforts to Transform India'.
Here's the video:
#BREAKING : Hundreds of angry Muslim residents of #NankanaSahib pelted stones on #GurdwaraNankanaSahib on Friday. They have surrounded the Gurdwara . The mob was lead by the family of Mohammad Hassan the boy who allegedly abducted and converted sikh girl #JagjitKaur . pic.twitter.com/L5A7ggKcD9

— Ravinder Singh Robin ਰਵਿੰਦਰ ਸਿੰਘ راویندرسنگھ روبن (@rsrobin1) January 3, 2020
As per the local reports, several Sikh devotees were still stranded inside the gurdwara. It is to be known that Gurdwara Nankana Sahib is considered to be a highly revered gurdwara which was built at the site where the founder of Sikhism, Guru Nanak, was believed to be born in 1469.