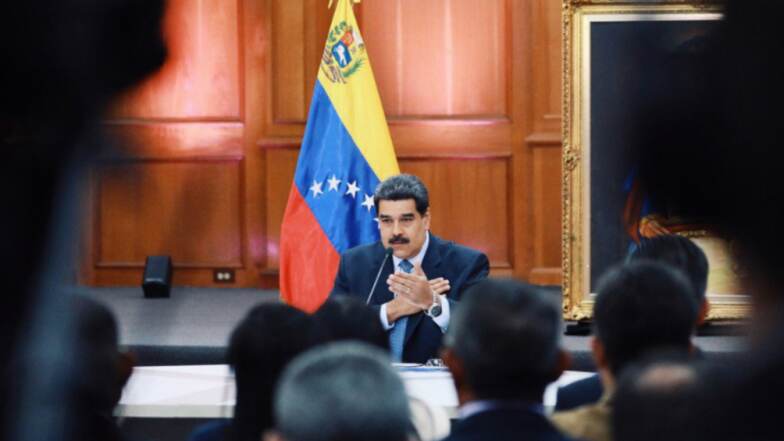 Toronto, January 27: In a sign of deepening fractures in Venezuela's politics, Venezuela's top military envoy to the United States has defected from the government of Nicolas Maduro. Col Jose Luis Silva released a video on Saturday calling on other military officers to back the opposition leader Juan Guaido.
"Today I speak to the people of Venezuela, and especially to my brothers in the armed forces of the nation, to recognize president Juan Guaidó as the only legitimate president," Col Silva said in a video recorded at the embassy in Washington, seated at a desk alongside the Venezuelan flag. He went on to add, "The top brass of the military and the executive branch are holding the armed forces hostage. There are many, many who are unhappy," Silva said. "My message to the armed forces is, 'Don't mistreat your people.' We were given arms to defend the sovereignty of our nation. They never, never trained us to say, 'This is for you to attack your people, to defend the current government in power'."
Guaido swore himself as president last week as various opposition parties rejected Nicolas Maduro's rule over what they call were rigged elections in 2018.
Guaido is now being supported by Western countries such as the U.S., UK and EU who have called for fresh elections in Venezuela as the country's political and economic crisis continues.
But Maduro has accused the U.S. of trying to instigate a coup in the country. Soon after Silva's defection, the Defence ministry released a statement calling the military envoy a traitor. "Insubordination in the face of international interests is an act of treason and cowardice with the fatherland inherited from our liberator Simon Bolivar. As such, we reject the declarations made by Col. Jose Luis Silva Silva, who was acting as military attaché in the United States," the defense ministry wrote on Twitter.
Subordinarse ante los intereses internacionales es un acto de traición y cobardía con la Patria heredada por nuestro Libertador Simón Bolívar, por ello, repudiamos las declaraciones por parte del Cnel. Jose Luis Silva Silva, quien desempeñaba cargo como Agregado Militar en EEUU. pic.twitter.com/VJRqzYz68M

— Prensa FANB (@PrensaFANB) January 27, 2019
Meanwhile, the turbulent political climate added to the economic misery of Venezuelans has led to a fresh exodus of people. More than three million Venezuelans have already left the country due to the economic strife in the South American country.