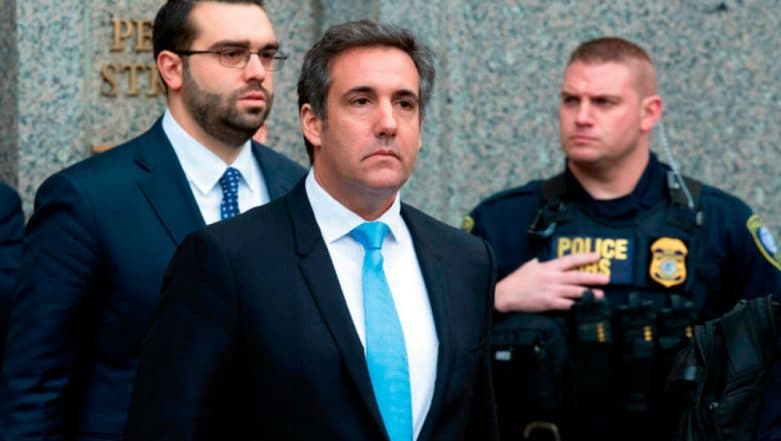 The New York Times has published an explosive report that says U.S. President Donald Trump's former personal lawyer Michael Cohen taped phone conversations with then candidate Trump about possible payments to Playboy Model Karen McDougal, who allegedly had an affair with the real estate mogul.
Michael Cohen reportedly secretly made a recording of his conversation between himself and the future President discussing payments to Karen McDougal who says she had an almost year-long affair with Trump from 2006 to 2007.
Speaking with CNN's Anderson Cooper in March, McDougal alleged that she and Trump were together "many dozens of times" and answered in the affirmative when asked if they were intimate. McDougal described the alleged affair from 2006 to 2007 as a consensual, loving relationship, and said she did not know Trump might have seen other women. Donald Trump during the time of the affair was already married to his third and current wife Melania Trump.
The FBI seized the recording during a raid on Michael Cohen's office and home earlier this year. The recording's existence further draws into questions Trump's tactics he and his associates used to keep aspects of his personal and business life a secret before the 2016 U.S. Presidential elections.
Rudy Giuliani, Donald Trump's current personal lawyer, confirmed in a telephone conversation on Friday that Trump had indeed discussed the payments with Cohen on the tape but said the payment was ultimately never made. He said the recording was less than two minutes and demonstrated that the president had done nothing wrong.
The U.S. Justice Department is investigating Cohen's involvement in paying women to tamp down embarrassing news stories about Trump ahead of the 2016 election including porn star Stormy Daniels. Prosecutors want to know whether that violated federal campaign finance laws, and any conversation with Trump about those payments would be of keen interest to them.
The New York Times notes that the revelation of such a phone recording highlights the potential legal and political danger that Cohen represents to Trump. At one point in time he considered himself Trump's troubleshooter and 'fixer' for issues big and small but with Trump's decision to distance himself from Cohen, his former lawyer is now seen as increasingly willing to consider cooperating with prosecutors against multiple ongoing investigations against the U.S. President.