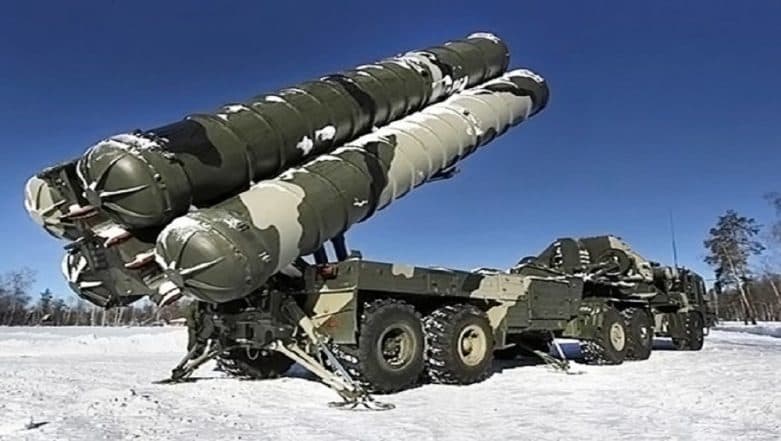 Tensions between Ukraine and Russia over a naval skirmish which has resulted in the detention of 24 Ukrainian soldiers and three naval vessels seems to be ratcheting up into an arms buildup as news comes of Moscow deploying its state-of-the art surface-to-air Triumf missiles in Crimea.
Russia's Tass news agency said, citing the Russian defence ministry that Moscow would be deploying its S-400 missile systems in the Crimean peninsula and expected them to be operational within a month. "Combat crews of the S-400 air defense missile systems organic to the Air Force and Air Defense group of the Southern Military District have entered duty in Yevpatoria," Black Sea Fleet's spokesman Rulyov said.
Russia S-400 Triumph is an anti-aircraft missile system that can hit targets up to a distance of 400 kilometers. The system can intercept targets as far away as 600 kilometers at an altitude of up to 30 kilometers.
The news of the deployment of Triumf missiles comes on the day Ukraine imposed martial law for 30 days in ten provinces bordering Russia.
Ukraine's President Petro Poroshenko had warned on Tuesday that "a full-scale possible war with Russia was a very real possibility" and accused Russia of naval aggression which resulted in the detention of Ukrainian navy men. He also signaled there could be a "partial mobilization" of the army. "If there is aggression, there will be partial mobilization. First and foremost, the reserve of the first wave will be mobilized, where "discharged soldiers" pack rucksacks and write to the recruitment offices about their readiness to defend Ukraine," he said in a statement released by the government.
However, Russian President Vladimir Putin has disputed Poroshenko's charge and today said the skirmish in the Kerch Strait was "provoked" by Ukraine. He said the Russian special forces soldiers "fulfilled their military duty" and protected Russia's border as "these territorial waters were always ours, even before Crimea joined Russia." Russia also released a video-recording of the 'confession' made by the Ukrainian navy men in which they said they had been ordered to sail to the Sea of Azov. These men have been ordered to be detained for two months by a court in Simferepol in Crimea.
However, Ukraine-Russia relations have been on the brink of war ever since Moscow annexed the autonomous region of Crimea after mass protests in Ukraine in 2014.