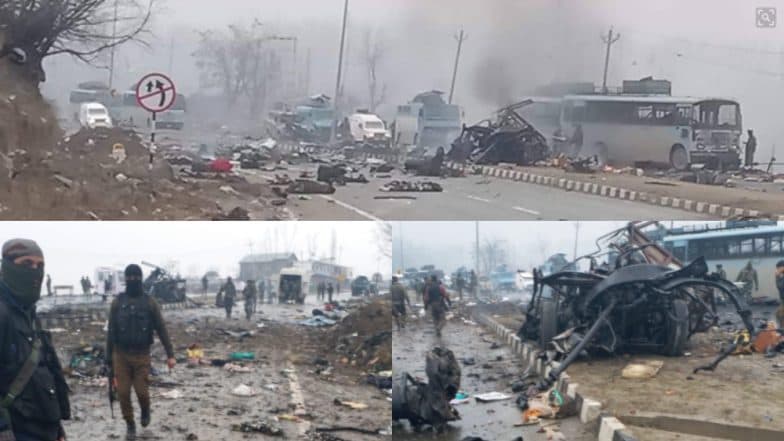 New York, February 22: A week after the gruesome terror attack on Indian security personnel in Jammu & Kashmir's Pulwama, the United Nations Security Council (UNSC) issued a statement condemning the "heinous and cowardly" assault. The statement deplores Pakistan-based Jaish-e-Mohammed (JeM) -- which has claimed responsibility of the attack -- but skips mentioning its chief Masood Azhar.
The Security Council has asked all UN members, particularly those based in South Asia, to cooperate with India in its efforts to combat terror and book the perpetrators of Pulwama attack to justice. Pulwama Backlash: India to Block Its Share of Water Flowing to Pakistan.
In a message to Pakistan, the UNSC has stressed that its member states should leave no stone unturned to hold perpetrators, organisers, financiers and sponsors of these reprehensible act of terrorism accountable.
"The members of the Security Council condemned in the strongest terms the heinous and cowardly suicide bombing in Jammu and Kashmir, which resulted in over 40 Indian paramilitary forces dead and dozens wounded on February 14, 2019, for which Jaish-e-Mohammed has claimed responsibility," said UNSC in a press statement.
The Security Council also extended condolences to the bereaved families of 40 CRPF personnel martyred in the attack. The elite grouping expressed its "deepest sympathy and condolences to the families of the victims, as well as to the Indian people and the government of India".
Further, the UNSC added that any act of terror, irrespective of its root-cause, is "criminal and unjustifiable regardless of their motivation, wherever, whenever and by whomsoever committed."
"They reaffirmed the need for all States to combat by all means, in accordance with the Charter of the United Nations and other obligations under international law, including international human rights law, international refugee law and international humanitarian law, threats to international peace and security caused by terrorist acts" the statement added.
A day earlier, UN Secretary-General Antonio Guterres, while criticising the attack in Pulwama, pitched for de-escalation of tensions between India and Pakistan. The top international body chief said he would like to personally broker peace in the region, if the two nations agree.