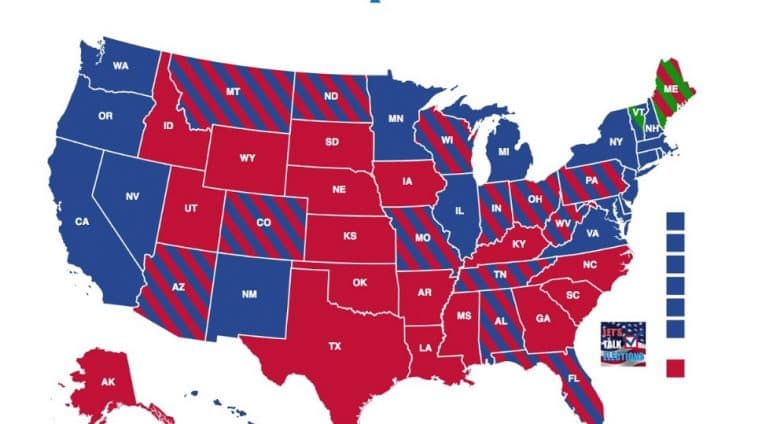 Election night is all about the numbers. Before the election night, it is all about everything else – perception, policies, controversies and drama. In Donald Trump's America what the midterm elections are not about is facts.
Donald Trump embarked Monday on a whirlwind final push across three states to stop Democrats from breaking his Republicans' stranglehold on the US Congress.
Cleveland, Ohio; Fort Wayne, Indiana; then Cape Girardeau, Missouri: it will be well after midnight before he gets back to the White House - and only a few hours more before polls open Tuesday across the United States.
"Everything we have created and achieved is at stake on election day," Trump told a cheering crowd in Cleveland, as he kicked off his furious last round of campaigning.
U.S. President Donald Trump has made the midterm elections about himself and his lies. On November 6, when US voters cast their votes to elect 35 Senators, 435 members to the House of Representatives, and and 39 governorships. They will have for context two years of Trump's policies that have been conducted on Twitter and two years' of lying about facts – alternate reality in Trump Counselor Kellyanne Conway's words.
And hence this election is a referendum on Donald Trump's time in office so far. This is reflecting in the record numbers of early voters who have already cast their ballot. 31 million as of Monday night.
Trump's time in office has created a deep divide in the U.S. He has positioned himself so far to the right of the immigration debate, on the healthcare issue, on gun control that anyone that does not agree with him positions herself/himself against him. This is most keenly felt by moderate Republicans and independent voters who either have to move to support Trump's extreme positions or then vote against him.
Hence, Trump has applied the strategy of fear to rally his supporters. He has painted this apocalyptic picture of cities being overrun with dangerous illegal immigrants, steel mills shut down, citizens kicked off their health care if Democrats take the Congress.
While speaking to his supporters on a conference call, Trump said the media views Tuesday's election as a referendum on him. "If we don't have a good day, they will make it like it's the end of the world," Trump said. "Don't worry. If we do have a good day, they won't give us any credit."
But Trump is wrong, in either scenario it will have been because of him.