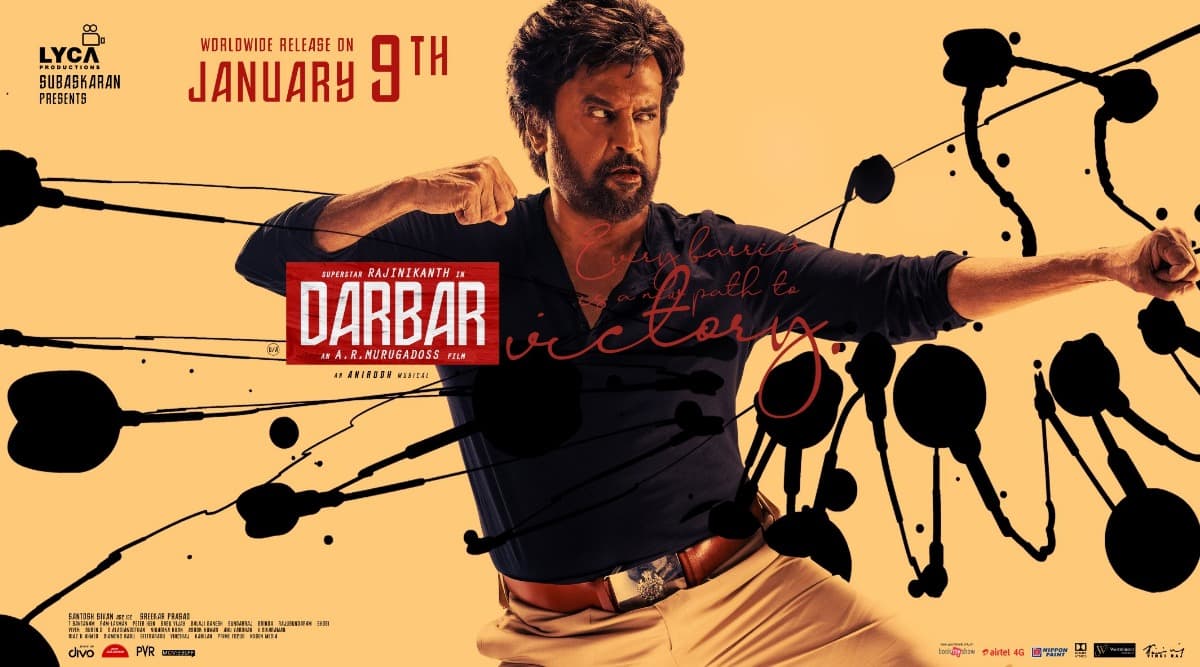 The big day is finally here! Darbar has hit the big screens and it is celebration time across the globe. Who would not want to watch first day first show (FDFS) of Rajinikanth starrer? And those who have already managed to catch FDFS of this action drama, have shared their reviews on Twitter. Fans have declared the film, directed by AR Murugadoss, as a mass entertainer. Whilst some have finished just the first half, they have still shared intriguing details about the film across social media platforms. Darbar New Poster: Rajinikanth aka Aaditya Arunachalam Says, 'I'm A Bad Cop'.
Twitter is flooded with a variety of hashtags around Darbar. It includes #DarbarFDFS, #DarbarFromToday, #DarbarReview, and many others. This is the first film of superstar Rajinikanth to be released in 2020. Fans were eagerly waiting to watch it as it is after a gap of more than 25 years that Thalaivar has returned in the avatar of a cop. When the posters of Rajinikanth in a cop's look, as Aaditya Arunasalam were released, there were several taglines giving a hint about his character. That included – 'It's Good To Be Bad', 'I'm A Bad Cop', 'Round EM Up & Take EM Down', 'When Terror Moves In He Comes Out', 'Every Barrier Is A New Path To Victory', and many others. Let's take a look at the reviews shared by Twitterati. Superstar Rajinikanth's Darbar Gets U/A Certificate; Censor Board Members Ask the Team to Make 11 Changes in the Film.
It's A Thumbs Up For Darbar
#Darbar didn't have the hype kaala or kabali had, but the movie has everything a commercial potboiler needs. This is why you shouldn't overdo the promotion... Comes with limited hype and exceeds expectations. @ARMurugadoss shows his fan side as a director #DarbarReview pic.twitter.com/Qux8CgeXoT

— blabbering blabberer (@HaRyblog) January 9, 2020
An Outstanding Film
One word : OUTSTANDING #Darbar : 🌟🌟🌟🌟 (4.5/5)

A soulful wholesome family entertainer. Riveting 1st half. Even more suspensful 2nd half#Sunil was deadly. #Rajini as #AA Never seen such a scrupulous cop character. Very witty & clever.

"Sure shot Blockbuster!👌🏻

— UNITED FAMILY OF THALAIVAR (UFOT) (@UFOT_OFFICIAL) January 9, 2020
Darbar FDFS
#Darbar action

1st half - Rajinism Fully theater therikuthu

2d half - Murugadass proved his classic #DarbarReview #DarbarFDFS

— Rithikraj Dhanush (@dhanush_Rithik) January 9, 2020
Speechless After Watching Rajini's Entry
#Darbar#DarbarReview: S-U-B-L-I-M-E

Rating ⭐⭐⭐⭐/5

ELECTRIFYING screenplay with a COAGULATE executant loaded with sentiment & star power.

Fans will go BERSERK over Rajni Entrance.

His entry is REVITING

but the rest was GRATIFYING pic.twitter.com/t7UUbq5Ilq

— Imtiyaz (@Imtiyaz19764172) January 9, 2020
Darbar Is A Masterpiece
One word :- M-A-S-T-E-R-P-I-E-C-E#Thalaivar Nailed it.

BGM is awesome

Thriller is outstanding and "Asli mein villain hu beta ye kaisa laga" is the life of movie.#Rajinikanth sir acting is on top level

⭐⭐⭐⭐🌠 /5#DarbarThiruvizha #Darbar #DarbarFDFS pic.twitter.com/duQO1nmojT

— ᏗᏒᏬᏉᎥ ❣️ (@aruvi_svc) January 9, 2020
BLOCKBUSTER
#Darbar - ⭐⭐⭐⭐ Pure Rajini Sir Madness

Vintage Style , Action Brilliantly Executed By @ARMurugadoss

Sir 👌👌👌

2020 Starts With Blockbuster Film 👍#DarbarReview #DarbarFDFS

— Priya ✍️ (@Priyawritings) January 9, 2020
Darbar - Best Commercial Film
Done with #Darbar

Awesome Racy Screenplay by @ARMurugadoss

A complete dominance by Superstar @rajinikanth Vintage Thalaivar Show is Back👌

Overall Best Comercial Film.

Sureshot Blockbuster🔥

Congrats to the team @LycaProductions

Rating - 3.75/5#DarbarFDFS#DarbarReview pic.twitter.com/OekKTwjKgJ

— குழந்தை அருண் New (@aruntwitzzz) January 9, 2020
An Industry Hit
#Darbar review:

✔️Thalaivar's charisma & performance

✔️Thalaivar...Thalaivar...Thalaivar

✔️Screenplay & direction

✔️Ani's BGM

✔️Cinematography

✔️Songs & Action

✔️All cast & crew

Verdict 4.5/5💥🎉🎊

An industry hit is on the way!@anirudhofficial@santoshsivan #DarbarReview

— R σ c κ Ƴ シ 🍁 (@_MrRocky) January 9, 2020
Fans Just Cannot Stop Singing Praises
What a film, mind blowing.

Mass and entertainment ,

Thalaivar. #Darbar#DarbarReview #DarbarFDFS #DarbarFDFS

— looking for good leader (@suchi2019) January 9, 2020
Thalaivaaa...
Thaliva #Darbar #DarbarReview #DarbarFDFS #DarbarFromJan9 #DarbarManiaBegins pic.twitter.com/7NWvdMlx76

— Oosisooru (@oosisooru) January 9, 2020
Rajinikanth Rules
RAJINIFIED THRILLER !

Darbar is the film that every Thalaivar fan was eagerly waiting for so many years.

ARM strikes Gold. The King rules every scene

THALAIVAR CHUMMA KIZHICHI IRUKAARU ! Extraordinary film#DARBARFDFS #DarbarReview #DarbarThiruvizha #Darbar #DarbarPongal

— Kousik Karthikeyan (@kousik23) January 8, 2020
Watch Darbar Hindi Trailer Below:
Darbar also features Lady Superstar Nayanthara opposite Rajinikanth. Also, Nivetha Thomas and Sunil Shetty are seen in key roles. The film's music has been composed by Anirudh Ravichander. Produced under the banner of Lyca Productions, besides Tamil the film has been released in Hindi, Malayalam and Telugu as well. Stay tuned for more updates from the world of entertainment.