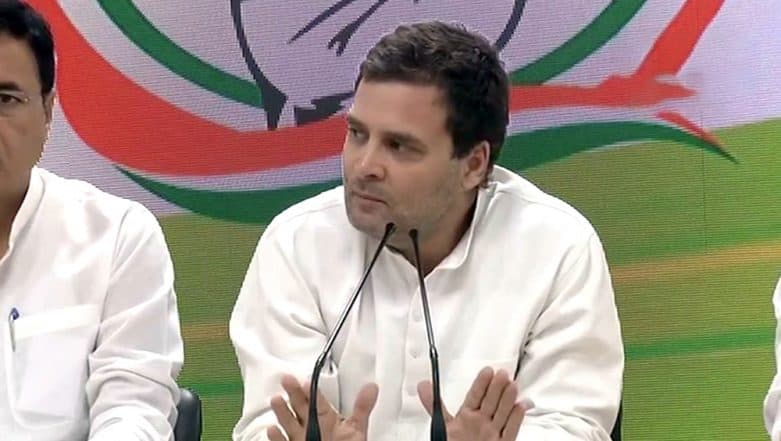 Alwar, May 15: All India Congress Committee (AICC) president Rahul Gandhi's scheduled visit to Rajasthan's Alwar to meet the gang-rape victim and her family members on Wednesday got postponed due to bad weather conditions. Rahul, along with Rajasthan Chief Minister Ashok Gehlot and Deputy CM Sachin Pilot, was slated to meet the victim in Thanagazi. Rajasthan Horror: Woman Gangraped in Alwar, Accused Post Video of Incident on Social Media; Case Registered.
According to reports, the Congress president couldn't fly from Delhi to Alwar due to bad weather conditions. According to reports, Rahul Gandhi will now visit Alwar on Thursday as he had to attend poll rallies. The INC chief will meet the gang-rape victim and her family on May 16. Alwar Gangrape: Narendra Modi Questions BSP's Support to Congress in Rajasthan.
April 26, 2019, incident has provoked anger and protests all over the state, the politics over Alwar gang rape case had also intensified. The Bharatiya Janata Party (BJP) had alleged that there has been a conspiracy to suppress the matter. The saffron party also ordered a Central Bureau of Investigation (CBI) investigation.
The Rajasthan police have arrested six people in connection with the case, including Mukesh Gujjar, for putting the video on Social Media. The state government has also ordered protection for the victim and her family. Alwar Gangrape: Prime Accused Arrested, BJP Accuses Congress Govt of Deliberately Suppressing Case.
The incident took place on April 26, when the couple was travelling on the bike in Thanagazi area, when they were stopped by five accused. The accused allegedly gang-raped the victim and made a video of the episode. In a complaint, the husband told, "Five people took turns to rape my wife in front of my eyes and one evil returned for the second time." The accused also tried to extort money from the victims after which they upload the video on social media.