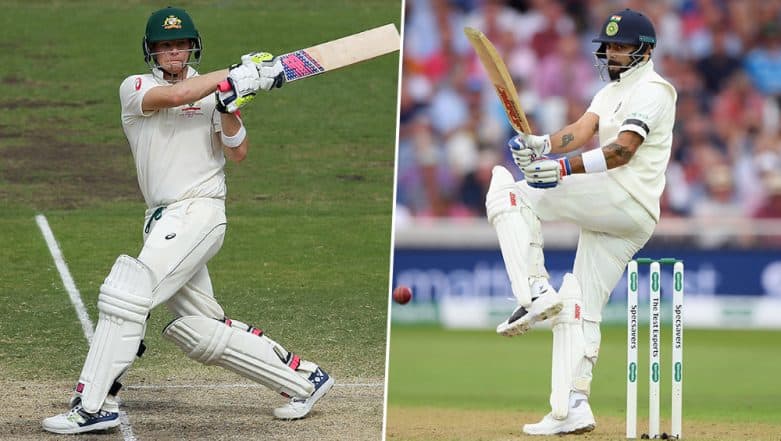 A cricket fan became a victim of numerous trolls on social media after one of his tweets turned out to be completely illogical. The fan, with name Ahmed on Twitter, compared Steve Smith and Virat Kohli over the number of centuries in Ashes tournament. His tweet, however, was completely illogical since Ashes is only played between Australia and England cricket teams and taking an outside cricketer in consideration is a completely out of context. Steve Smith Ridicules Umpire Aleem Dar for Giving him Out During ENG vs AUS Ashes 2019 1st Test, Australian Batsman Uses DRS to Good Effect; Watch Video. 
The Twitter account goes by the name 'azkhawaja1'. The Twitter user Tweeted, "Steve Smith has 9 Ashes hundreds. Virat Kohli? Zero". His tweet invited a lot of trolls and memes by Twitterati. While some were angered at his foolish comparison, others came up with humorous tweets to pull his leg. Have a look at some of the tweets below. Steve Smith Silences Critics by Scoring 144 Runs on the Day 1 of Ashes 2019; Netizens Hail the Australian Batsman.
Smith vs Ronaldo!
Steve Smith has 9 Ashes hundreds. Cristiano Ronaldo? Zero.https://t.co/3gqf50QWJw

— Aditya Tiwari (@adt007ad) August 1, 2019
Vijayan vs Tony!
Vijayna has won

9 Vijay award 1 IARA award

Tony srark? Zero #27YearsOfAJITHISMFestivalCDP pic.twitter.com/Unh4ERLtY6

— AJITH ᴺᴷᴾ தல²⁷ʸʳˢᴬʲⁱᵗʰⁱˢᵐ (@Ajithism143) August 2, 2019
Drunk?
— LACTOSE INTOLERANT (@Drunk_hangover) August 2, 2019
LOL!
— Dr Himanshu Rajput (@SimplyHimanshuR) August 1, 2019
HAHAHA!
— Sumit Kr Mishra (@imskm11) August 2, 2019
ROFL!
— Abhishek Khare ||LS|| (@imabhishek_real) August 2, 2019
Steve Smith smashed a century during the ongoing The Ashes 2019 England vs Australia first test. Smith hit 144 in the first innings of Australia's batting. He hit his 24th Test hundred and became the fastest batsman to do it. Smith's 24th Test ton came in 118 innings, five less than Virat Kohli.
Meanwhile, England vs Australia first Test of The Ashes 2019 saw hosts England dominating Australia in the first innings. Batting first, Australia smashed 284/10 in the first innings. England's opener Rory Burns hit a century (125) to take England towards a big total than that of Australia. At the end of the second day, England trailed by 17 runs after scoring 267-4.