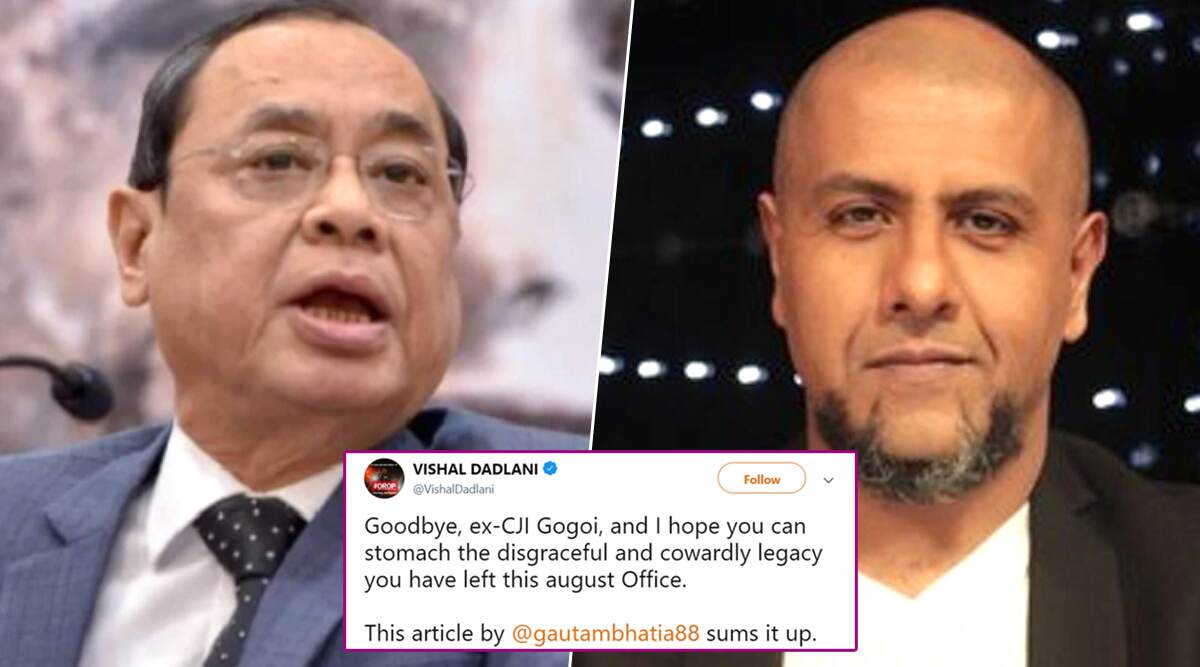 One of the popular music composers in Bollywood, Vishal Dadlani has landed himself in trouble. Why do we say this? As the creative celebrity's latest tweet targeting the former Chief Justice of India, Ranjan Gogoi's retirement has not gone down well with Tweeples. Targeting Ranjan's legacy, Dadalani in his not-so-filtered tweet called Gogoi 'disgraceful' and 'cowardly'. Along with sharing an article, the music composer wrote on Twitter, "Goodbye, ex-CJI Gogoi, and I hope you can stomach the disgraceful and cowardly legacy you have left this august Office." This particular tweet has garnered backlash against the award-winning singer and netizens were in no mood to go humble with Dadlani. Vishal Dadlani Responds to Internet Calling Him Hypocrite: 'I've Also Done 5 Remakes, Not Made a Career out of Putting My Name on Other People's Work'.
Expressing their anger, Twitterati gave their take on the matter and want Dadali sacked from the popular singing reality show, Indian Idol's latest season in which he the judge. With this, #SackDadlaniFromIndianIdol started trending on the micro-blogging site and all have tagged Vishal's tweet as 'shameful'. Vishal Dadlani Just Tweeted What we all Wanted to, Warns Composers of Remixing his Old Songs and asks Them to be Original Instead.
Check Out The Tweet By Vishal Dadlani Below: 
Goodbye, ex-CJI Gogoi, and I hope you can stomach the disgraceful and cowardly legacy you have left this august Office.

This article by @gautambhatia88 sums it up.https://t.co/02kSxLix16

— VISHAL DADLANI (@VishalDadlani) November 18, 2019
And Here Are A Few Twitter Reactions Demanding To Sack The Singer: 
Absolute misuse of freedom of free speech. This is a Constituional Tort. Courts must award realistic damages atleast for such statements. #SackDadlaniFromIndianIdol pic.twitter.com/wAPJbMfIPU

— R.M.Bhangde (@Rahulbhangde) November 21, 2019
Vishal Is A 'Terrible Offender'
This is very shameful.He is the CJI of India .If someone disrespecting him means he is disrespecting the Indian constitution.And this fellow Vishal has proved to be terrible offender many times. #SackDadlaniFromIndianIdol

— Itishree Bishwal (@ibishwal) November 21, 2019
Vishal Cannot Judge Children
#SackDadlaniFromIndianIdol #SackDadlaniFromIndianIdol @SonyTV After passing disgusting and offensive comments against our CJI, how can he be allowed to judge our children?

— Sachin Kumar (@Sachinsinghslyr) November 21, 2019
Dadlani Is A Spoilt Brat
An overgrown spoilt brat is maligning n trolling, harassing a senior most esteemed supreme Court Judge #gogoi n questioning his very fair n fact based judgment n ur keeping him on a show majority in country hv made popular. #SackDadlaniFromIndianIdol or v UNSUBSCRIBING @SonyTV

— Only good vibes (@anconventional) November 21, 2019
The Modi Angle
Dear Vishal, your hate for beloved PM Modi has blindfolded you and resultantly you have become anti Hindu, Hindu Hater so much so that you are unjustifying the supreme Court judgement of Ram mandir decision. Shame on you. #SackDadlaniFromIndianIdol

— Deepesh makwana (@devmak30) November 21, 2019
Well, this is not the first time Vishal Dadlani has found himself in hot waters. As earlier, he had added his political thoughts and was slammed for the same on Twitter. Vishal had tweeted, "You know what's incredible? 99% of Mumbai couldn't care less about whatever is going on with the formation/non-formation of the Maharashtra government. What amazing apathy! Such a disconnect with our own lives for the next 5 years! Wow! #SpiritOfMumbai". Stay tuned!