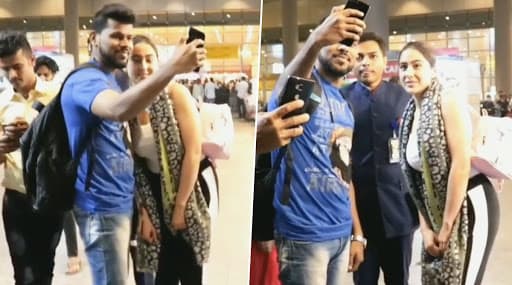 Sara Ali Khan is perhaps one of the most humble and well-behaved actresses from the younger lot. She meets everyone with a broad smile and loves to crack jokes on herself. There is no air of being a star kid, which says a lot about the way she was brought up. In fact, she makes sure everytime her fans want a click with her, she obliges. But at times, it does leave her with bad experiences. For example, recently at the airport upon return from NY, Sara looked shocked when a fan tried to touch her while taking a click. Sara Ali Khan's New York Holiday Pictures Prove She's Obsessed with the Big Apple
Sara was very sweetly obliging whoever she could at the airport with a smile on her face. She didn't shoo anyone. So when this man in a blue shirt tried to touch her while clicking a selfie, she was appalled. Check out the video here to know what happened...
Fans need to understand that every celeb has a personal space. Just because they are obliging you with a picture, doesn't mean you take advantage of the opportunity. Look at Sara, despite the bad incident, she obliged a few more and even said sorry to those with whom she couldn't get a photo with. Isn't that extremely sweet?