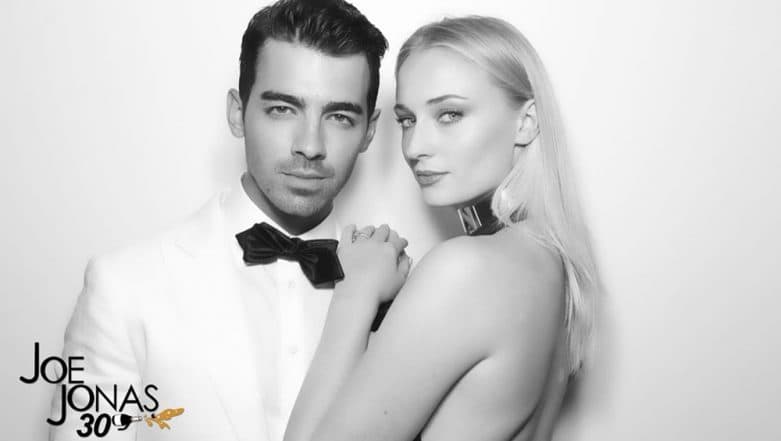 Joe Jonas turned 30 on August 15 and the celebration was grand. Sophie Jonas, the singer's wife, threw a Bond-themed party for her husband over the weekend. The pictures which did rounds on social media are enough to prove that was it was a classic party. Before hosting such an amazing night, Sophie surprised Joe onstage while he was performing with his brothers Nick and Kevin on their Happiness Begins tour in Washington DC. Joe has thanked his gorgeous wife on Instagram, for throwing such an amazing Bond-themed party. Not only that, he has even shared few pictures which were clicked right before the celebration.
The black-and-white pictures are going perfectly with the bond theme. The latest pictures shared by Joe Jonas features his wife Sophie Turner, his brothers Nick and Kevin as well. The pictures also feature Matthew Hechter, Cris Urena, Deleasa, Richard Chai, Emilio Vitolo, Jack Lawless and Kevin Covert. The men are looking dapper in tuxedos.
Here Are the Pics Joe Jonas Shared on Instagram
View this post on Instagram
While sharing the post Joe Jonas captioned it as, "Thank you babe for throwing me the most epic bond themed 30th birthday here's a few pictures before the 🍸". Joe started dating Game of Thrones hottie Sophie Turner in 2016 and the two got engaged in October 2017. The two took everyone by surprise by getting hitched secretly in Las Vegas on May 1, 2019. Then there was their second wedding which took place on June 29 in Paris, France.