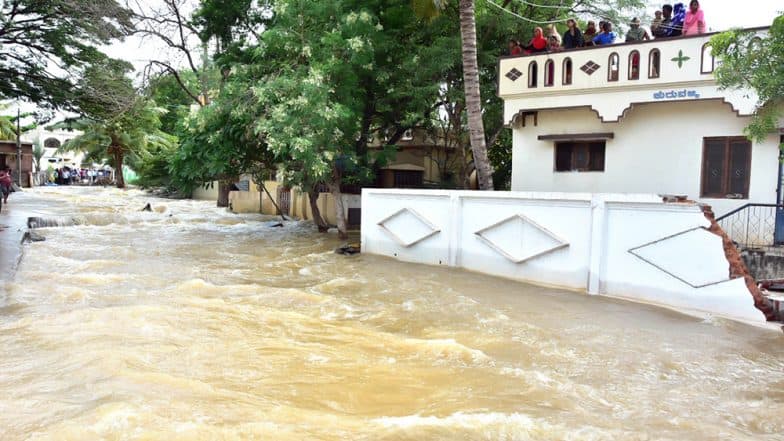 Bengaluru, August 25: Heavy showers are predicted in Karnataka in the next 24 hours owing to the movement of a cyclonic development over the Bay of Bengal, the India Meteorological Department ((IMD) said. In its weather bulletin, the IMD informed that very heavy rainfall is likely at most places over Coastal Karnataka and at many places over North Interior Karnataka & South Interior Karnataka. "Warning for next 24 hrs;Heavy rain likely to occur at isolated places over all 3 districts of Coastal Karnataka", the IMD said. Pre-Monsoon Rainfall From March to May Deficit Drops to 22%: IMD.
On Saturday, an inter-ministerial team of the Centre reached Karnataka to conduct an assessment of the flood situation. According to a report by IANS, a Home Ministry official said the team will conduct an on-the-spot assessment of the flood situation for the next three days. Reports inform that the fortnight-long monsoon mayhem in the southern state has damaged 5.35-lakh hectares of farmlands. Moreover, food grain production and 71,234 houses have been damaged due to incessant rainfall across the state.
Earlier this month, a red alert was sounded by the IMD in south Karnataka following which torrential rains lashed Kodagu, Chikkamagluru and Dakshina Kannada districts. Till August 15, the death toll in rain and flood-related incidents in the state was 61. Moreover, nearly 7 lakh people were evacuated and 51,460 animals rescued in the 22 affected districts across the state.
According to preliminary assessment, agriculture and horticulture crop loss is estimated to be in 4.69 hectares of farm lands, while 58,620 houses have been damaged.