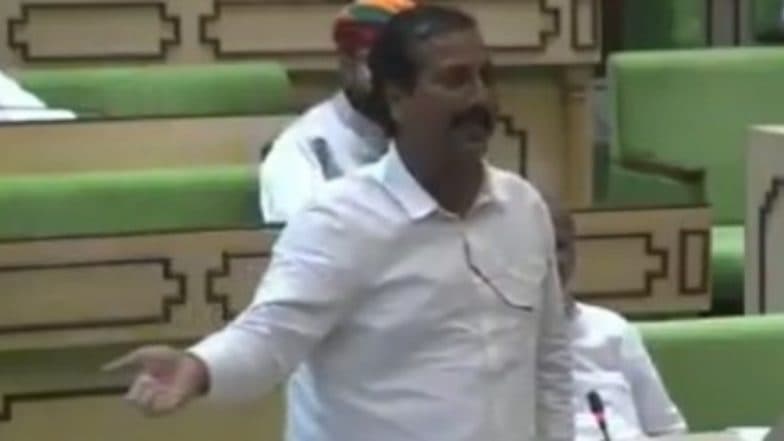 Jaipur, August 1: Bahujan Samaj Party (BSP) MLA Rajendra Gudha made a controversial statement on Thursday, he said that Mayawati's party take money for giving a ticket. Speaking in Rajasthan Assembly, Gudha said, "money is influencing politics. A poor person cannot contest elections. Political parties take money for giving tickets, even my party does it." Everyone Knows BSP Supremo Mayawati 'sells Tickets': Shivpal Singh Yadav.
Targeting Mayawati, MLA said, "In BSP, tickets are being sold. If someone pays more money than the other, the ticket is given to him, if the third person gives more money than he gets the ticket. This chain stops with the person paying the highest amount." Reacting to it, deputy leader of the opposition, Rajendra Singh Rathore said, "Mayawati can only answer it."
Watch video:
BSP MLA, Rajendra Gudha, Jaipur: Paise se chunaav prabhavit ho rahe hain. Gareeb aadmi chunaav nahi ladh sakta. Partiyon mein tickets ke liye paise ka lain-dain hota hai, humari party mein bhi hota hai. pic.twitter.com/nGwzF0GVZn

— ANI (@ANI) August 1, 2019
Earlier, Pragatisheel Samajwadi Party (Lohia) (PSPL) President Shivpal Singh Yadav has also accused the BSP supremo of selling tickets. "Everyone is aware that she (Mayawati) sells tickets and buy voters. People should understand that they should not vote for the candidate who has bought tickets by money," he said.
During 2019 Lok Sabha Elections campaigning, BJP leader Maneka Gandhi has also accused Mayawati of selling party tickets for Rs 15-20 crore each. "Mayawati sells party tickets and even her party members take pride in telling this. She has 77 houses and residents of those houses say with pride that Mayawati takes Rs 15-20 crore either in diamonds or in cash," she said.