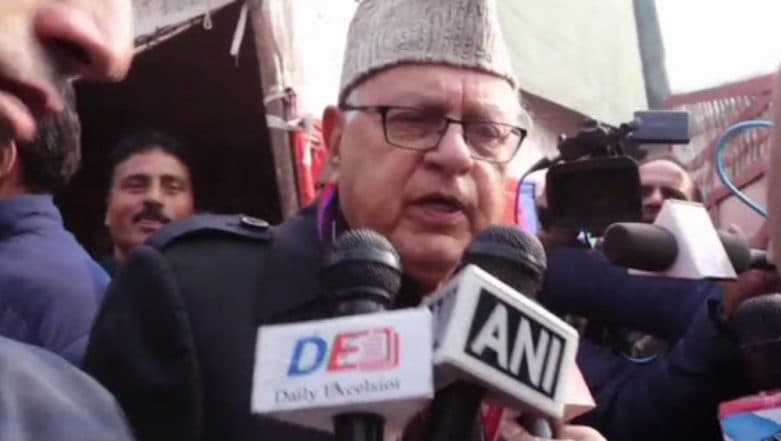 Baramulla, December 3: National Conference chief Farooq Abdullah on Sunday accused the People's Conference (JKPC) leader Sajjad Lone's father for bringing militancy to the Valley. Former CM was of the opinion that though he warned Abdul Gani Lone not to bring 'gun culture' to Kashmir, he did that, and the peaceful condition in Jammu and Kashmir changed forever.
Speaking to reporters in Baramulla on Sunday said, "His father had come to meet me when I was dismissed by Jagmohan. 'I am going to Pakistan. I am going to get guns'. I said don't bring guns. However, he brought. What does he have to say about this?" Jammu and Kashmir: Farooq Abdullah Says 'PDP, NC, Congress Came together to prevent Governor From What he is Doing Now'
The comments of the senior leader come at a time after Governor Satya Pal Malik dissolved the state Assembly citing that the alliance between People's Democratic Party, National Conference and Congress will not work in favour of the state.
Farooq Abdullah in Baramulla,J&K: Uske(Sajjad Lone) walid mere pas aaye te jab mujhe dismiss kiya gya tha Jagmohan ne,'Main Pakistan ja raha hun.Main bandook lane wala hoon.'Maine use kaha,bandook mat laiye.Magar vo laye. Bandook nahi lani chaiye thi. Iska jawab dein vo. (02.12) pic.twitter.com/bHwcz94VU4

— ANI (@ANI) December 3, 2018
He also accused the Governor and BJP-led Union government of trying to destroying the Constitution. Abdullah hit out at the Governor for interfering in the banking system of Jammu and Kashmir.
Asked on the alliance between PDP-NC-Congress alliance, Abdullah claimed that their party is not hungry for power. He said, "Ultimately people have to decide what's to be done. We were never hungry for power. PDP, NC and Congress have different paths but we came together. Why? You see what condition J&K bank is in today. It would never have been the case had our government been there."
The NC chief was of the opinion that NC stands for a better relationship between India and Pakistan. Abdullah said, "National Conference stands for all those paths which lead to Indo-Pak friendship. I believe friendship between the two nations is most important for this state. The day friendly relations begin between the two nations, Kashmir issue will be resolved on its own."