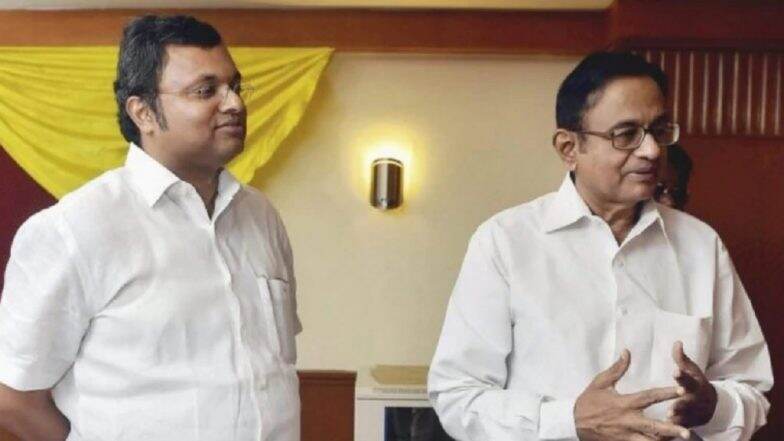 New Delhi, August 22: Arrested former Finance Minister P Chidambaram's son Karti Chidambaram termed the CBI action against his father "an attack on the Congress party". P Chidambaram was arrested by the Central Bureau of Investigation (CBI) in connection with the INX Media case on Wednesday evening after high drama in Supreme Court and later outside his house in the national capital.
Chidambaram will be produced in a special court of CBI today. Karti, a Congress MP, said his father was targetted because he is the government's most vocal critic. "This is not merely targeting of my father but the targeting of Congress party. I will go to Jantar Mantar to protest," he told reporters on Thursday as he arrived at the Delhi airport this morning from Chennai. Chidambaram and Karti were named by INX co-founders Peter and Indrani Mukerjea. Chidambaram Taken to Same CBI Headquarters That He Had Inaugurated in 2011, Watch Video.
"I have never met Peter Mukerjea. I've never met Indrani Mukerjea in my life. The only time I have seen Indrani was when CBI took me to confront her. I have had no interaction with anyone directly or indirectly connected with their company," Karti said. "I was summoned 20 times, raided four times. They still don't have a case," he added. P Chidambaram Arrested by CBI in INX Media Scam Case: Here's All That Happened Before the Dramatic Arrest.
Know All About The INX Media Case:
This case is related to alleged kickbacks received by Karti in exchange for allowing INX Media, a television company, to receive Rs 305 crore as foreign funds in 2007 when Chidambaram was Finance Minister. According to the Enforcement Directorate, the companies where "bribe" was transferred to were controlled by Karti.
In the INX Media case, the CBI had registered an FIR on May 15, 2017, alleging irregularities in the Foreign Investment Promotion Board (FIPB) clearance. In a series of tweets on Wednesday, Karti thanked the Congress party for its support to his father and termed the "drama and spectacle" being enacted by the probe agencies was for the "voyeuristic pleasure of some".
"The drama and spectacle being enacted by the agencies is to simply sensationalise and satisfy the voyeuristic pleasure of some," he tweeted as CBI and ED officials scaled the boundary wall of the Jor Bagh residence of his father to arrest him. "I am thankful to the @INCIndia Shri @RahulGandhi, @priyankagandhi, for their support. And ever grateful to @KapilSibal, @DrAMSinghvi, @salman7khurshid, for being there with us throughout," he added.