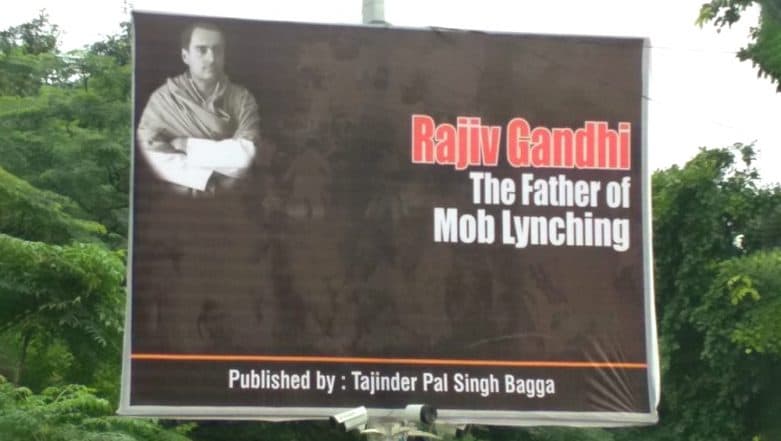 New Delhi, August 28: It has become a full-blown war between the Congress and the Bharatiya Janata Party (BJP) over the 1984 anti-Sikh riots. In a fresh attack, BJP Delhi spokesperson Tajinder Pal Singh Bagga has put up posters across the national capital, calling former prime minister Rajiv Gandhi "The father of mob lynching".
He has also tweeted about having put up the posters across Dekhi with great pride. "Yes Rajiv Gandhi is Father of Mob Lynching," says his tweet, with a video of one of the posters. Many BJP supporters have come out in support of Bagga, praising him for putting up these posters.
Yes Rajiv Gandhi is Father of Mob Lynching pic.twitter.com/8OAw7vOn2X

— Tajinder Pal Singh Bagga (@TajinderBagga) August 27, 2018
Earlier this month, BJP IT Cell chief Amit Malviya had also called Rajiv Gandhi "the father of lynching" on the late PM's birth anniversary on August 20.
The war over the anti-Sikh riots broke out last week when Congress President Rahul Gandhi, while addressing a gathering at London, said that his party was not responsible for the 1984 massacre. "I have no confusion in my mind about that. It was a tragedy, it was a painful experience. You say that the Congress party was involved in that, I don't agree with that. Certainly there was violence, certainly there was a tragedy," Gandhi had said.
Punjab Chief Minister Captain Amarinder Singh had backed Gandhi's remark, saying that not the whole party, but some individuals were responsible for the anti-Sikh riots.