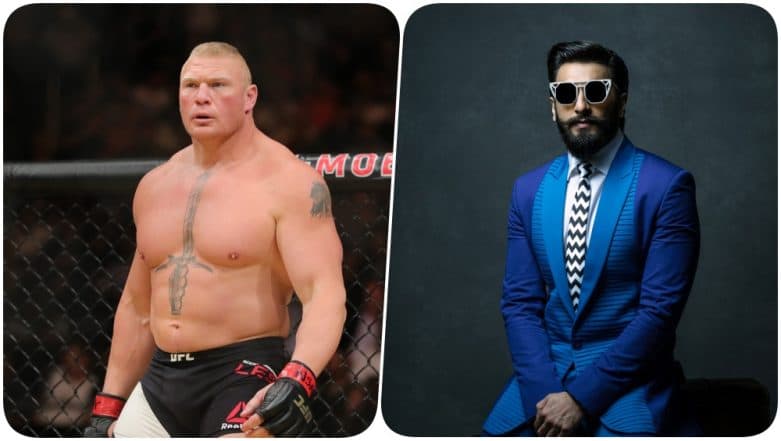 Just after the victory against Pakistan in the CWC 2019 match, Bajirao Mastani actor Ranveer Singh who was at the Old Trafford went berserk and was seen celebrating the victory like a normal fan. He even posed a few selfies with the cricketers including KL Rahul and Hardik Pandya. The actor's social media account was flooded with snaps with Hardik Pandya and others. But this particular picture got into the eyes of the Paul Heyman, who happens to be the advocate of the WWE star Brock Lesnar. Reason? According to the advocate, Ranveer had blatantly copied the catchphrase of the WWE star. CWC 2019: This Video Of Ranveer Singh Hugging Virat Kohli After India's Win Against Pakistan Is Everything.
Heyman got so annoyed that he even threatened to sue the actor for the same and an angry tweet. The actor had used the words 'Eat. Sleep. Dominate. Repeat ' to praise Hardik Pandya. However, Heyman quickly corrected the catchphrase as– 'Eat, Sleep, Conquer, Repeat'. He also said that he owned the copyright to the famous war cry and the words belong to him and Lesnar.
ARE YOU F'N KIDDING ME???????????

1 - It's Eat Sleep CONQUER Repeat

2 - Copyright #YourHumbleAdvocate and @BrockLesnar

3 - I am litigious

4 - EAT SLEEP DEPOSITION REPEAT https://t.co/yppZe129eZ

— Paul Heyman (@HeymanHustle) June 19, 2019
This is not the first time the WWE star's advocate has claimed royalties for using his catchphrase. Prior to this, he even warned the ICC who used Heyman's phrase for praising the former Indian skipper MS Dhoni. "My most (in)sincere compliments to @cricketworldcup for promoting the amazing @msdhoni by paraphrasing my mantra for @WWE #UniversalChampion @BrockLesnar #EatSleepConquerRepeat. Our royalties may be paid in cash, check, stock or cryptocurrency," he had tweeted. The ICC had a witty reply to Heyman and offered him tickets for the matches instead of royalties.