You can never really guess what technological developments will get for you. In the race to be unique and appealing to the customers, some companies go ahead and create stuff never thought of. The most common technologically advanced piece we carry would be our upgraded smart-phones. But move over phones, this list is about the weirdest gadgets introduced in the year 2017. The CES (Consumer Electronics Show) a part of Consumer Technology Association, talks about all the innovations. Several electronic companies display their best of products and innovations each year. Today take a look at the unconventional innovations.
1. Hushme Voice Mask
https://www.youtube.com/watch?v=w2wF8LOV5kw
We all know of some loudmouth person. These could be someone you meet at work or in the bus/train. These guys just cannot hush and talk so loudly that it is disturbing. For such people is this Hushme Voice Mask, not exactly a device someone who proudly show off. It has a pair of earbuds attached to a thick mask covering the person's mouth and it quietens the voice of the speaker!
2. Dome Mouser connected mouse trap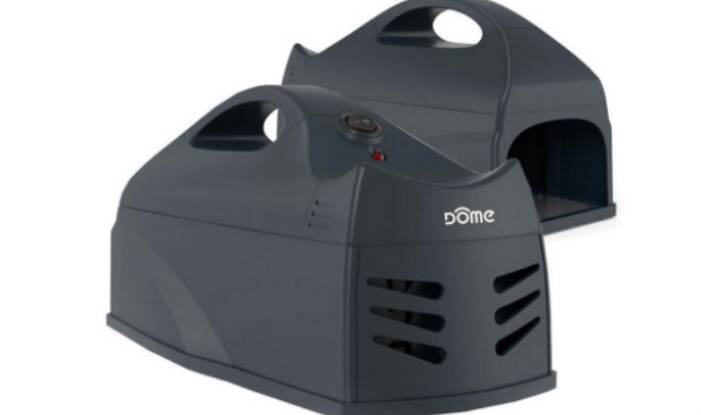 Rodents are a common trouble in some houses. They can binge on wires or stored food in the house and seriously mess up. This dome mouser mousetrap was a supposedly effective way to get rid of these creatures. It has a battery powered electrocution system within which affects the mouse when it enters inside. Not just that, it gives a message once the mouse is caught.
3. Kerastase Hair Coach by Withings
https://www.youtube.com/watch?v=ksIZiJCOeTA
Girls have a tendency to brush their hair often. Some feel uneasy is their hair gets tangled. But ever wondered if there would be an application to help you do it. The Kerastase Hair Coach created a smart hairbrush with a microphone. It recorded the sounded of your hair brushing and then informed the user if they are brushing their hair right. The goal was to prevent the users from damaging their hair by excessive brushing.
4. Denso Vacuum Shoes
https://www.youtube.com/watch?v=umV10iUEaQg
Japanese went steps ahead when it came to cleanliness with this innovation. Yes, literally! The Denso Vaccum shoes help one clean dirt as they walked. The heel of the shoe had a pedal which activated once you walk, it then inhaled nearby dirt and debris. The dirt was stored in a ting box within the shoe! These housecleaning shoes could turn out be a favourite of your mother, or maybe not.
5. Oombrella
https://www.youtube.com/watch?v=REhziqstMws
Looks like the weather updates on your phone were not enough, here comes Oombrella. It is the first smart umbrella which collected weather data in real-time and sends alerts to the user. The umbrella has environmental sensors which can send you updates on your phone. Plus, it also gives an alarm if you happen to leave it behind. A perfect one right?
6. Griffin Technology Connected Toaster
https://www.youtube.com/watch?v=Z7h8-f-k8C8
If toasts and egg is your favourite breakfast then you might love this! This technologically enhanced toaster is enabled with Bluetooth.
7. Sensorwake Oria alarm clock
https://www.youtube.com/watch?v=LuKVjpKDYl4
Most of us use snooze function of the alarm more. But here is an alarm clock that helps you sleep! It is a clock as well as a sleep enhancer, thanks to its scents releasing ability! The clock releases particular kinds of smells in the air which can kind of regulate your sleep and wake-up patterns.
8. Baby Snoo Smart Sleeper
https://www.youtube.com/watch?v=5FEm2D220Ow
Are you irritated with your kid wailing in the middle of the night? Then this smart sleeper by Yves Behar is the nanny you need. The bed adjusts the motion, rocks when needed to make the child sleep well. It works in tandem with the movement of the child, marks the behavioural pattern and puts the child to sleep. No more waking up late night to play pat-pat!
9. Hubble Hugo
https://www.youtube.com/watch?v=sw04inZlGvY
These are home security cameras which not just capture your footage but also detect your mood! It interprets the expressions on your face as you move about in the room. Well, you are strictly under surveillance here.
10. Hypersuit
https://www.youtube.com/watch?v=UWf3VSmeuHY
Virtual reality caught on like a really nice trend. To enhance your experience more comes hypersuit which makes you feel like you are flying. It is a metal exoskeleton to be paired with a VR headset. It gives an actual reality feeling like you're flying off but well you are just lying with your arms spread.
These are some of the wackiest innovations we saw in the year of 2017. Everything is somewhere connected to your smart-phones and we are not sure how comfortable it makes us. We are depending too much on that technology already to know more. In fact, technology identifying your moods closely is a scary thing, or even to take care of your wailing babies. We are sure there would be more of such crazy innovations. Do let us know if you think they should have made it to this list!