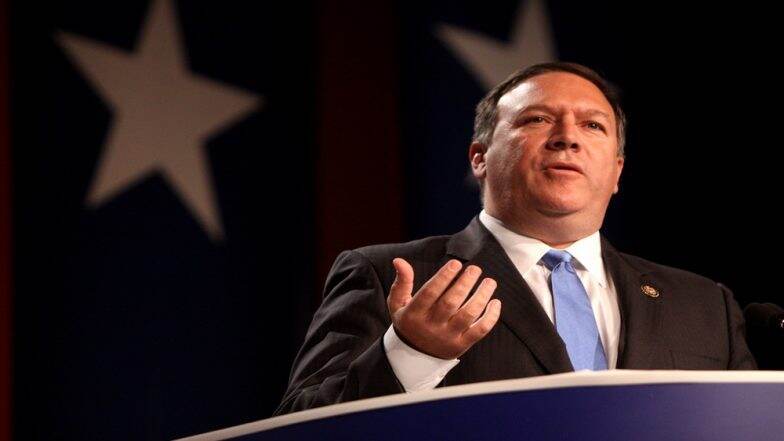 Toronto, March 6: US Secretary of State Mike Pompeo has spoken publicly against the threat that Chinese telecom firm Huawei poses, as countries use its hardware to build their 5G infrastructure.
Pompeo has alleged that Huawei has deep connections to the Chinese government and in turn its intelligence services which presents a security threat to most countries employing Huawei's hardware technology. He has said that countries should be aware of these connections before they invite Huawei into their countries and expose their critical infrastructure to the Chinese firm. "Huawei is owned by the state of China and has deep connections to their intelligence service. That should send off flares for everybody who understands what the Chinese military and Chinese intelligence services do. We have to take that threat seriously," Pompeo said.
Pompeo was speaking at the 'Future Farmers of America event' in Iowa where he commented on Huawei. He said that the Trump Administration considers Huawei a threat on two levels, "One is that they - there's a risk that they'll steal American technology, and frankly, use those systems to invade your privacy. That is, they do telecommunications equipment that provide backbone services for networks, handsets all throughout the IT infrastructure and soon will be moving across the entire world with their new 5G rollout of their equipment," Pompeo said.
"Second, Huawei also presents a more traditional national security threat. It's very different from in America. If you're working with AT&T or a US telecom provider, a Microsoft or an IBM who's providing IT services or products, it's a private company doing its own thing, trying to make money, trying to grow its business," he said. He added, "There's a real risk, though, that the Chinese will use this for purposes that aren't commercial, that aren't for private gain, but rather for the state's benefit. And it's a risk I think these countries ought to very, very carefully consider before they move forward." The U.S. has banned Huawei and has been joined by Australia and New Zealand.
The U.S. government has also accused Huawei of stealing trade secrets and intellectual property belonging to American firms as well as defying sanctions on Iran to trade with it. The U.S. has, through Canada, arrested Huawei CFO Meng Wanzhou which has raised tensions between U.S.-China and Canada-China. This ongoing situation forms a considerable section of discussions in the ongoing trade negotiations between the U.S. and China.
The Chinese government for its part has rubbished the Trump Administration's claims. Huawei which is owned by Ren Zhengfei, gave a rare interview in which he called the American ban a purely political action.