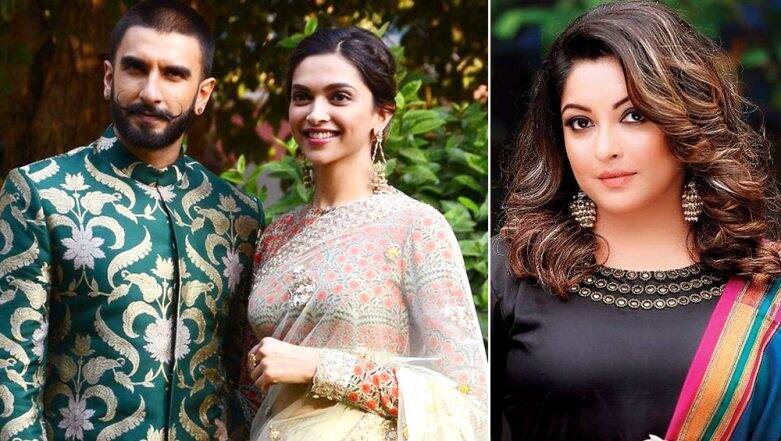 Tanushree Dutt and Nana Patekar controversy is not going to end anytime soon. We are so proud of this actress who decided to speak against the wrong and reveal a dark side of this otherwise glamorous industry. The actress who is fiercely determined to seek justice this time has finally found some much-needed support from Bollywood stars. While actors like Farhan Akhtar, Priyanka Chopra, Parineeti Chopra, Arjun Kapoor and Kangana Ranaut have already sided with the actress, the recent ones to speak on the incident are Ranveer Singh and Deepika Padukone. Mira Rajput Comes Out in Support of Tanushree Dutta, Condemns Everything That Happened With Her.
The Padmaavat duo who attended Hindustan Times Leadership Summit 2018 was asked to comment on the allegations and the #MeToo movement of course. We are glad they chose to answer the question and not ignore it like Amitabh Bachchan or Salman Khan. "Harassment anywhere and in any form is wrong," said Ranveer Singh. He was all praises for the actress who decided to speak up and not get bullied. "It takes a lot of courage to come out and speak about harassment, but if it has actually happened. It is wrong and I condemn it," he further added.
Whereas Deepika played it very safe. She focussed her answer around the #MeToo movement and said, "The #MeToo movement isn't just about gender, it's about right versus wrong." Tanushree Dutta Booked by Maharashtra Police After Complaint By MNS For Her Comments Against Raj Thackrey.
Well, we are glad Bollywood isn't shying away from standing up against the wrong practices prevalent in the industry. It took ten years for Tanushree to make everyone believe her. This itself proves where do we stand and how long we have to go.