Kangana Ranaut promised her fans that she will launch the first look of her next film on July 5 and the actress has lived up to her words as the first poster of Dhaakad is here! Yep! The title of Kangana's next film is Dhaakad and from the looks of it, this one is going to be a huge action entertainer. Kangana has revealed that this one has been mounted on a large scale and added that if it does well, there will be no looking back for women in Indian cinema.
The poster features Kangana holding two huge guns as cars and street lights burn down in the background. We don't get to see Kangana's face clearly for she is not directly facing the camera. However, from what we see, it's definitely impressive. Check it out right here: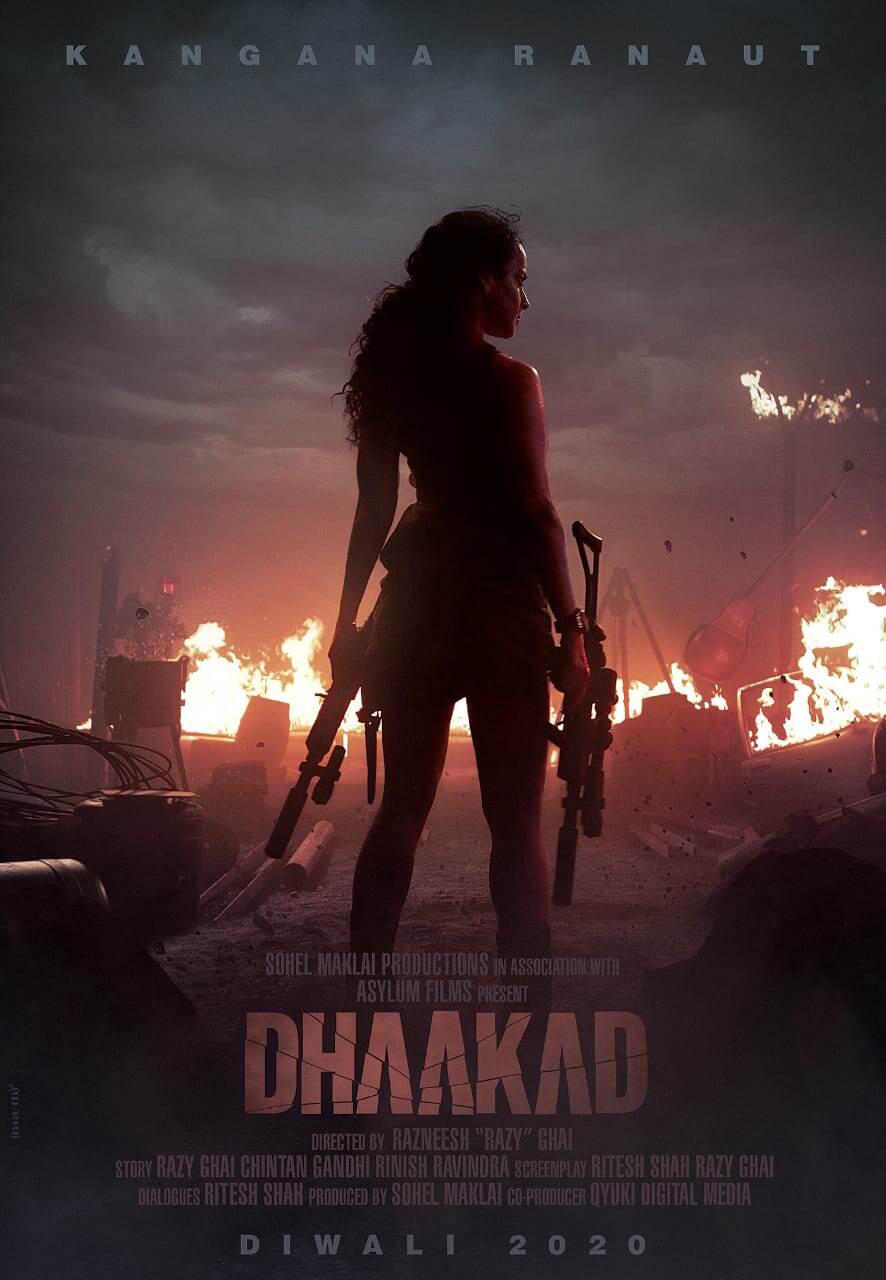 Talking about the Dhaakad, Kangana in a press statement said, "After the success of Manikarnika, it has been proven that audience across the globe are loving larger than life films with a female hero. Dhaakad is not only a benchmark film for my career but will be a turning point for Indian cinema as well. The film is mounted on a large scale, is one of a kind female led action film, and is apt for a Diwali release. If it is received well, there will be no looking back for women in Indian Cinema. Sohel and Razy are my friends, and we have been planning this project from quite some time. I am quite excited for this film and can't wait to start work on it." 'The Rise of Strong': Kangana Ranaut Looks 'fearless' on Magazine Cover.
Speaking about the film and Kangana, acclaimed filmmaker Razneesh "Razy" Ghai, who is directing the film added, "Being an army kid myself, I've always wanted to start off with an action film. This is a great time for a film of this genre and i'm looking to push the boundaries on this project with my visual style. I respect Kangana as an actor and we're excited to make a memorable film." We hear that the makers are looking to rope in a leading action director from Hollywood to choreograph the elaborate sequences.
Dhaakad is jointly produced by Sohel Maklai Productions and Asylum Films and co-produced by Qyuki Digital Media. The film also marks screenwriter Ritesh Shah's first collaboration with Kangana.