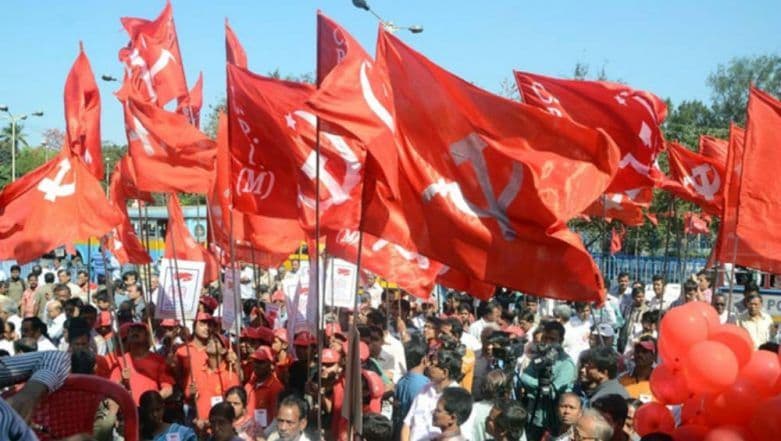 Kolkata, January 24: Days after West Bengal Chief Minister and Trinamool Congress supremo Mamata Banerjee showed her political strength at Kolkata's Brigade Parade Ground, ahead of the Lok Sabha elections, the Communist Party of India (Marxist) is going to hold a mega rally at the same iconic venue on February 3. However, the mega rally would be limited only to the Left Front allies, unlike Banerjee's rally where political stalwarts made their presence felt.
Informing more about the upcoming rally, CPIM politburo member Nilotpal Basu said, as reported by The Hindustan Times, "It will be the rally of only the Left parties. Unlike Mamata Banerjee, we don't need help from other parties. What did she achieve by organising that flop rally?" United India Rally: Opposition Unity on Display as Mamata Banerjee Vows to Oust Modi Government in 2019 Lok Sabha Elections.
Basu claimed that Banerjee organised the rally to project herself as the prime ministerial candidate. He said, as the daily quotes, "She is on the back foot and now trying to project herself as the prime ministerial candidate. No one thinks that she can be the PM. We, on the other hand, will send the message that time has come to defeat the BJP (Bharatiya Janata Party) at the Centre and the Trinamool in the state. We will also state the alternative policies we stand for."
With the scheduled mega rally in Kolkata, the Left Front wants a prominent space in the united opposition camp by keeping a distance from TMC. Also, the mega rally would kick start the Lok Sabha election campaign for the Left Front, as a lot of stakes depend on how it performs in the eastern part of the country.
Among other things, the coalition with Congress would be discussed in the coming days, with the CPI-M-led Left Front would consider keeping a significant number of seats in its belt. However, the seat-sharing formula is yet to be discussed in the polit bureau meeting of the party. In 2014 Lok Sabha elections, the CPIM won just nine seats, and the Left Front managed to secure 11 seats.
Considering the mega rally of Banerjee in Kolkata – attended by 18 opposition parties – the meeting between them was described by analysts as one of the biggest Opposition rallies in recent times. Though TMC had claimed the presence of half-a-million people attending the event, Left Front opines that they do not believe in number, but the outcome of the rally. It would be interesting to see how the Left Front manages to retain the 'Left' voters before the upcoming elections.