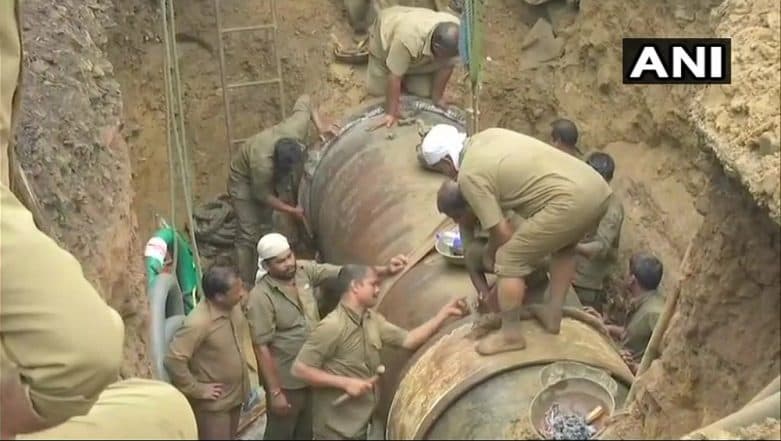 Mumbai, July 13: Traffic movement in Mumbai between Parel and Chembur has been severely affected for two days due to pipe repair work. A 48-inch water pipeline was being repaired by the hydraulic department workers below the Parel flyover since Thursday. The Parel flyover has been kept closed for traffic movement since Thursday.
Mumbai Traffic Police has diverted the traffic movement to avoid any inconvenience. Commuters are being asked to take Bhoiwada - Naigaon crossroad towards Char Rasta. Further, Baba Ambedkar Road, Matunga, has been diverted towards the left turn of the MTNL office- char rasta- RA Kidwai Road- CST.
Besides this, the water supply in the adjoining areas of Sion, Parel, Lalbaugh, Kalachowki, Matunga, has also been affected. The BMC officials have stated that by Friday evening, the work will be completed. As the water pipe is huge, the workers are taking time to repair the damage, said the officials.
Here is a tweet about massive traffic jam due to  ongoing repair work of water pipeline that had burst:
#Watch: Heavy traffic from Parel till Chembur, due to repair work of the Parel water pipeline that burst yesterday, following which the south-bound traffic on Parel flyover is closed. BMC engineers say work has been completed but it could be a while before traffic eases. pic.twitter.com/TQ8OKemFlo
— Mumbai Mirror (@MumbaiMirror) July 13, 2018
Several netizens also took to Twitter talking about massive traffic jams they were facing due to the repair work. The pipeline burst was reported on Thursday below the Parel flyover. The burst led to loss of several gallons of water.